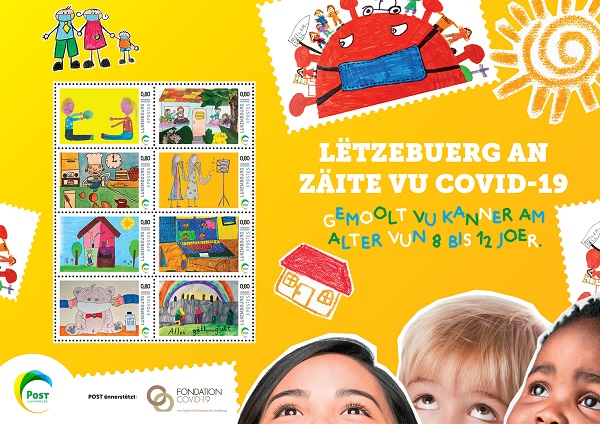 POST Luxembourg has announced the issuance of a special series of eight COVID-19 stamps.
Following a drawing competition for children aged 8 to 12 under the theme "Draw us a moment lived during confinement", POST Luxembourg is honouring the contributions of the eight winners with a special series of COVID-19 stamps.
The health crisis has brought a lot of changes, especially for children: parents teleworking, no school or distance learning, no visits to grandparents, no fun and games with friends... confinement often led to moments of boredom.
"Many of the activities that are part of children's everyday lives were no longer possible during the COVID-19 containment period," said Emile Espen, manager of POST Philately. "There have certainly been some unusual situations and experiences which they will talk about later with their own children".
To precisely capture these moments and impressions, POST Philately organised a drawing competition for children aged 8 to 12. From 15 to 31 May 2020, young budding artists were able to submit their drawing via Facebook or by email. A jury then selected thirteen winners from among the numerous entries, rewarded with cash prizes or vouchers from the Ernster bookstore.
The winning designs of the first eight places were put on stamps, issued in the form of a sheet of eight "meng.post" stamps, the customisable stamp of POST Philately. From this week, these special stamps can be ordered from the new POST Philately online store www.postphilately.lu, at the Philately counter (13 Rue Robert Stümper, Cloche d'Or) or by order cards, which can be found in all major post offices in Luxembourg.
Part of the proceeds will be donated to a project of the National Research Fund (FNR), preselected by the Fondation de Luxembourg as part of the fight against coronavirus.