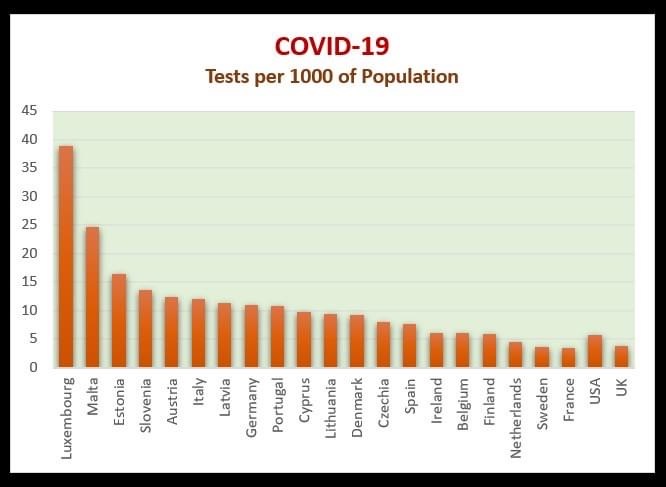 According to data from the Worldometers database, Luxembourg currently sites high in the global leaderboard for population testing for COVID-19 (coronavirus), topping the figures for all EU Member States.
As of 17:30 on Thursday 6 April 2020, Luxembourg's authorities had carried out a total of 24,291 tests since the beginning of the crisis. With data from Worldometers, this represents almost 40 tests per 1,000 inhabitants - far ahead of most other countries in Europe and beyond. Just behind the Grand Duchy for testing is Malta, followed by Estonia and Slovenia. Iceland leads the testing numbers, at around 82, thanks to compulsory testing introduced there, with Norway also performing strongly, followed by Luxembourg...
The graph pictured shows the number of tests carried out per 1,000 inhabitants. All European Union (EU) Member States not presented tested less than three persons per 1,000. The graph just includes EU Member States; the US and UK have also been included for comparative purposes.
The world average could not be computed as data for China is currently unavailable.