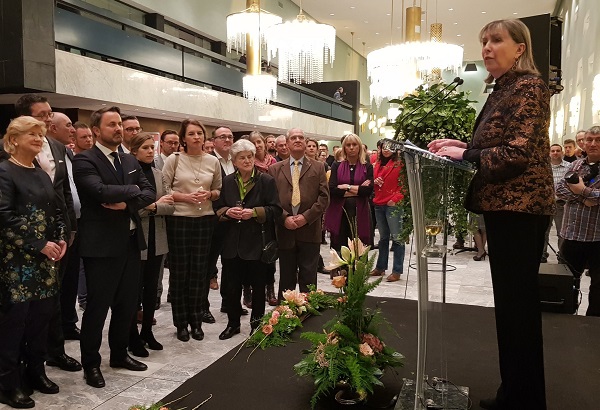 Lydie Polfer's speech; Credit: Jazmin Campbell
On Monday evening, the College of the Mayor and Aldermen of the City of Luxembourg held its traditional New Year reception at the Grand Théatre in Luxembourg-Limpertsberg.
The event, which brought together staff of the City of Luxembourg, the media and public figures such as Prime Minister Xavier Bettel, served as a moment of reflection on both the past year and the year to come from the perspective of Luxembourg City.
In her speech, Lydie Polfer, the Mayor of the City of Luxembourg, addressed the highs and the lows of 2019. On the one hand, she highlighted the fact that last year had marked several sad events, notably the passing of Grand Duke Jean in April and the tragic death of a child at the Christmas Market last month. On the other hand, Lydie Polfer reflected on some of the achievements of 2019, namely the Royal Hamilius project and progress made on the development of the tram network.
The Mayor added that the population of Luxembourg City had reached over 122,000 in the past year and that such demographic growth justified the need for so much construction and road works in the capital- works which are set to continue into the new year. In this context, Lydie Polfer also mentioned the foreseen completion of the new stadium this year, as well as new facilities for the City's sports and maintenance services. She quipped that there was "enough work there for everyone" in the coming year.
Lydie Polfer concluded by thanking the staff of the City of Luxembourg for their continued hard work; she recalled that the City's workforce had increased to over 4,170 by the end of 2019 (some 100 employees more than the previous year).