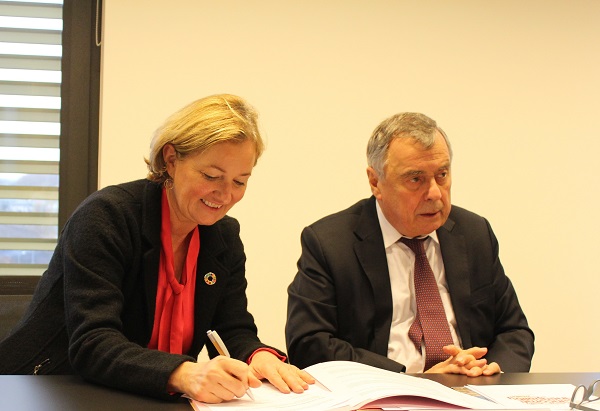 Paulette Lenert, Minister of Cooperation and Humanitarian Affairs, and Dr. François Bourguignon, President of LIS, sign the agreement; Credit: MAEE
Luxembourg's Directorate for Development Cooperation and Humanitarian Affairs and the non-profit organisation Luxembourg Income Study (LIS): Cross-National Data Center have agreed to the the latter providing unlimited data to various United Nations agencies.
On Wednesday, Paulette Lenert, Minister of Cooperation and Humanitarian Affairs, and François Bourguignon, President of the LIS: Cross-national Data Center, signed an agreement providing a large number of UN institutions with unlimited access to LIS data.
Indeed, one of the priorities of the Luxembourg Cooperation, as part of its General Strategy, is the collection and dissemination of data relevant to sustainable development.
LIS is a transnational data centre located in Luxembourg that serves a worldwide community of researchers, educators and policy makers. It acquires data on income, wealth, employment and demographic data from many countries and harmonises them to allow for cross-national comparisons and make them accessible to the public through databases.
This data is considered useful for many UN agencies and in particular for the pursuit of Sustainable Development Goals (SDGs) 1 and 10 on poverty and inequality respectively. These include the study of trends and results in these areas. The LIS has already worked with the following UN agencies: the United Nations Development Programme (UNDP), UNICEF, UN Women, the United Nations Research Institute for Social Development (UNRISD) and the United Nations Department of Economic and Social Affairs (UN DESA).
In this context, the Luxembourg Cooperation will contribute a total of €150,000 over a period of five years (2020-24).