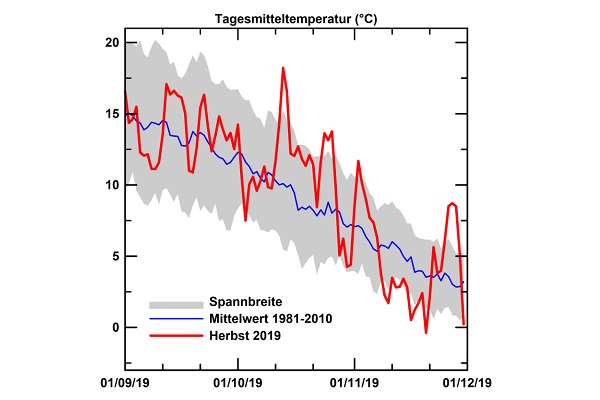 Credit: ASTA
The ASTA weather bulletin has revealed that autumn 2019 was a bit too warm and too wet in Luxembourg.
The State Meteorological Service of the ASTA (Department of Agricultural Services - Ministry of Agriculture, Viticulture and Rural Development) has carried out a weather analysis for autumn 2019, taking into account the period from 1 September to 30 November 2019. The analysis looked at the network of 32 automatic weather stations across the Grand Duchy.
Once again, this year's weather data was compared with the averages of the reference period 1981-2010 with a special focus on the following four representative stations: Asselborn (north), Clemency (south-west), Remich (Mosel) and Grevenmacher (Mosel). The mean temperatures for each of these regions were above the long-term averages, with up to +0.3°C in the Ösling region (Asselborn) and +0.7°C deviation in the south of the country (Clemency).
On the one hand, October was above average at all stations with +1.5°C in Clemency and at both Mosel stations. On the other hand, November was slightly cooler than the reference period throughout the country, with temperatures as low as -0.2°C on the Moselle.
In addition to a slightly warmer October and a slightly colder November, autumn 2019 saw above-average rainfall throughout the country, with a surplus of up to +103 mm recorded in Koerich (where the precipitation surplus was highest). This contrasted with September 2019, which was a bit too dry across the country; the long-awaited rain only started in the last week of September. In October, Clemency experienced the most rainfall - 144 mm, or 66 mm more than the reference value. Similarly, November rainfall was slightly above the reference period.
Nevertheless, these higher levels of rainfall are not sufficient, according to ASTA, to compensate the precipitation deficit experienced since January 2019. This is especially the case in the north and centre of the country. The precipitation managed to replenish some of the reserves in upper soil layers, but they are still not enough to make up for the deficit over the last two years in the lower strata. This affects the drinking water supply of the population, as well as agriculture and the condition of Luxembourg's forests.