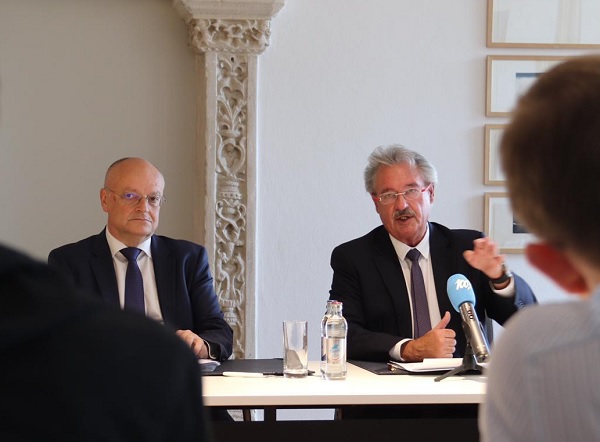 L-R: Gaston Stronck, Secretary General of the Ministry of Foreign and European Affairs; Jean Asselborn, Minister of Foreign and European Affairs; Credit: MAEE
The Heads of Luxembourg Diplomatic Missions and the Directors of the Ministry of Foreign and European Affairs met in Luxembourg from 20 to 23 May 2019 for the annual Diplomatic Conference.
During the Diplomatic Conference, the debates focused on the future of Luxembourg diplomacy as well as on the main lines of Luxembourg's foreign policy, with special emphasis on cooperation, defence and immigration policy. In 28 different sessions, grouped under four main themes, the topics covered included political, administrative and economic news as well as European politics and the rule of law. The agenda and the functioning of the diplomatic network and the Luxembourg administration in general were also on the agenda.
Following the conference, Jean Asselborn provided key figures concerning the Luxembourg Ministry of Foreign and European Affairs. Notably, the department currently employs 703 people. Among them, 143 diplomats work within the Luxembourg diplomatic corps, including 51 women, which corresponds to more than one-third of the workforce. This represents an increase of about 60% of the female workforce in three years (from 2016 to 2019). In addition, 68 diplomats are currently assigned to one of the missions of the Luxembourg diplomatic network (51%) and 66 to the department in Luxembourg (49%).
Minister Asselborn pointed out that Luxembourg has a well-developed network of embassies, permanent representations and consulates around the world. Indeed, the Grand Duchy has 29 bilateral embassies, five permanent representations to international organisations and three consulates general (in New York, San Francisco and Shanghai).
Finally, as part of the discussions on European policy and the rule of law, Heads of Mission and Directors of the Ministry of Foreign and European Affairs visited the EU Court of Justice in Kirchberg, before being received by His Royal Highness the Grand Duke, in the presence of Princess Alexandra, at Berg Castle.