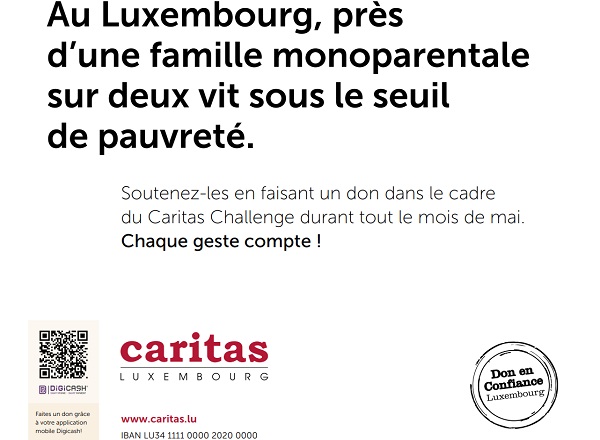 Credit: Caritas Luxembourg
Caritas Luxembourg has launched the campaign "And how would you do it?" to raise awareness of the difficulties faced by families living in poverty in the Grand Duchy.
The new Caritas Luxembourg campaign aims to highlight the difficulties faced by families living in precarious situations. Indeed, nearly one in two single-parent families live below the poverty line in Luxembourg.
In response to this issue, Caritas Luxembourg offers families in difficulty access to food and everyday products at prices that are three times lower than those found in supermarkets, via its social grocery network "Caritas Buttek". The product line is similar to that of a classic grocery store. Thanks to the savings made, people in precarious situations are seeing their purchasing power increase. Beyond the grocery store, the "Caritas Buttek" are also places of exchange that aim to strengthen social bonds and solidarity.
The first Caritas Buttek social grocery store was opened in Esch-sur-Alzette in 2009. Diekirch, Redange-sur-Attert and Luxembourg-Ville followed suit in response to increasing demand. Access to "Caritas Buttek" is reserved for people with a card issued by an authorised social office. In 2018, they helped nearly 5,000 people to eat proper meals at modest prices.
Those wishing to support Caritas Buttek and more broadly Caritas Luxembourg can do so by making a donation via bank transfer to the account (CCPL) IBAN LU34 1111 0000 2020 0000 or online at www.caritas.lu.