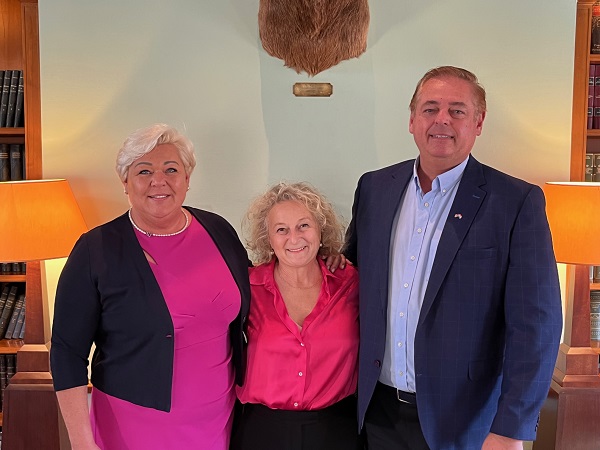 (L-R) Sonja Holper, AMCHAM event organiser; Victoire Auguste-Dormeuil, Auguste-Dormeuil & Associates; Daniel McKenzie, AMCHAM; Credit: Chronicle.lu
On Monday 2 October 2023, the American Chamber of Commerce in Luxembourg (AMCHAM) held a lunchtime event at the Cercle Munster in Luxembourg-Grund entitled "USA Market Insights – Your Gateway to American Business Success".

Around 25 members and guests - many considering expanding the products or services into the US market - attended the luncheon to listen to two speakers addressing US market insights and differences working in both the US and in Europe, aimed specifically for Luxembourg-based companies considering breaking into the US market, whether they are considering export, expansion, partnerships or client acquisition.

The Deputy Head of AMCHAM Chairman, Daniel McKenzie, standing on for the Chairman, Paul Schonenberg, welcomed those attending and explained that the presentation and Q&A would take place before the meal. He introduced the speaker.

Victoire Auguste-Dormeuil, author of "Your Guide to US Market Expansion", spoke on "From Dreams to Profits: Mastering Business in the USA", presenting various USA market insights. As a US market entry specialist, she has developed a comprehensive roadmap to decode the intricacies of the American business landscape by providing Luxembourg enterprises with actionable insights and vital resources, enabling a confident expansion into the dynamic and multi-faceted American marketplace.

She started by thanking those for attending and explained that her background in investment banking and the media and entertainment industry could be interesting to share, for companies wishing to expand into the US, particularly practical and pragmatic details. In the US she was based in California and also worked in New York City, in wealth management and wine distribution, as well as industry including aerospace, explaining that she became a "business matchmaker".

To understand the US market, she stated that it is still bigger than China and is stable but dynamic, and is open to innovation. The focus is flexibility and being able to grasp opportunities. It is home to different ethnicities and customs, and has many different markets into which one can tap. In LA, 90% of companies have under 20 people, demonstrating the entrepreneurial mindset. The best way to take advantage is to be physically present; it is very different to what one sees in American films. To adjust to the American market, it is important to understand that American drink differently; customs are different, e.g. when being invited for dinner in the US, one normally brings a bottle of wine, whereas in Europe bringing chocolate is more normal.

Human resources are different in the US; there is no universal healthcare, so around 30% of labour costs can be benefits. Some states are more affluent than others, more are business friendly. Some states have a "right to work" policy which means, for example, that someone can not be dismissed for joining a trade union. The cost of living needs to be taken into account too, e.g. California is expensive compared to other states. It is a nice place to live, it has strong logistics - it has five airports and two sea ports.

To create a company in the US, the process is normally quick (a simplified process takes less than an hour once one knows basic information such as jurisdiction, etc.) as the country embraces entrepreneurship. Visas are also important, for non-nationals to work in the US, mentioning briefly Green Cards. She warned that it is important to keep US and, say, Luxembourgish entities separate due to the possibility of lawsuits so that creditors can not "go after" the main company.

On cultural aspects, the customer comes first in the US; product returns are the norm. She also stated that networking is key and tried a quick exchange with those attending to make a quick "elevator pitch" to someone sitting beside them. It is considered rude to be late for anything; being on time is important, as are storytelling and philanthropy (with a focus). She stressed that sarcasm does not work in the US. Appearance is also very important, as in packaging, and can be challenging.

On business etiquette, she stressed that one should never talk about topics such as politics, religion and sex in the US. In the US, people are always talking about the present; they do not normally start by presenting about the history of the company or one's background and experience. She recommended to start with being positive and find out how one could help them. She also said not to hesitate in stating what one is looking for, e.g. a distribution partner.

In the Q&A part of the event, on the issue of how to sell products and services in the US, she stated that an "accelerator" would be advantageous, to be put in contact with people who already have the "doors open" instead of "reinventing the wheel". Developing a solid business plan for the US is crucial, understand the competition and positing oneself - understanding one's Unique Selling Proposition (USP) - with pressure on obtaining quick results. Therefore, marketing and selling in the US are key, with trade shows very important in the US.

She concluded by stating that, to enter the US, one has to be ready for success, by thinking ahead in terms of financing, partners, etc.

Unfortunately, Naomi Y. Hasegawa, Head of International Subsidiary Banking, EMEA Global Commercial Banking at Bank of America, was stuck in Paris and could not attend as planned. She had been due to discuss some of the differences she has seen working in both the US and in Europe, and to present insights about the global commercial banking business. Through Daniel McKenzie, she relayed a message that if anyone has any issues related to banking, to contact her through AMCHAM.