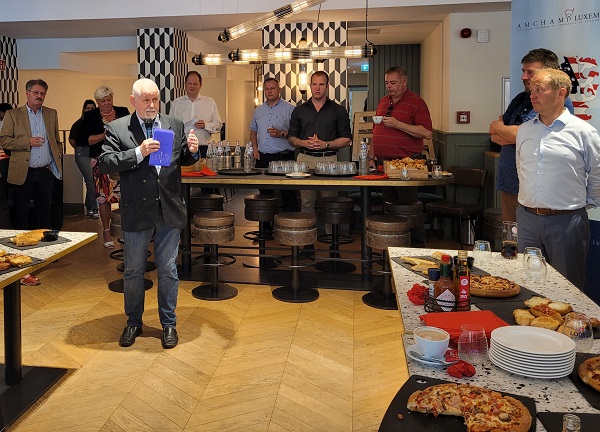 Paul Schonenberg, Chairman & CEO of AMCHAM; Credit: Jazmin Campbell/Chronicle.lu
About 80 people registered to attend the first MBC Networking Breakfast organised by the American Chamber of Commerce in Luxembourg (AMCHAM) at Pizza Hut in Place d'Armes in Luxembourg-Ville on Wednesday morning.
AMCHAM launched its Member Benefits Club (MBC) discount programme in early 2021 to help increase foot traffic in the retail sector in Luxembourg and the Greater Region and rebuild the economy after a long period of lockdowns and e-commerce during the COVID-19 pandemic. More concretely, members have access to discounts in the partner shops, whilst partners get free publicity and potential new customers. The programme currently counts over 200 retail partners and AMCHAM has distributed over 3,000 membership cards so far.
Representatives of various retail industry sectors (from health and beauty to food and beverages and travel) gathered for the networking breakfast on Wednesday 21 June 2023. Gilles Scholtus, government advisor to the Ministry of the Economy and head of the General Directorate for Small and Medium-Sized Enterprises, was also present.
AMCHAM Chairman and CEO Paul Schonenberg described the networking breakfast as an opportunity for MBC partners and members to meet each other over food and drinks in Luxembourg's city centre. He stressed that "if the economy does not work well, nothing else will" and emphasised the value in working together, in this case through the MBC programme, to create "a good thing". He described the concept as AMCHAM's "idea of a circular economy at the local level". He later shared with Chronicle.lu that he felt this networking event had proved successful and that AMCHAM was "really happy to show its support to the retail sector and pleased to have so many partners for the MBC programme". Similar events may pop up in future but Paul Schonenberg said he would be particularly "pleased" if attendees decided to form a committee among themselves.
Gilles Scholtus went on to present the General Directorate for Small and Medium-Sized Enterprises of Luxembourg's Ministry of the Economy to attendees, who could ask him questions afterwards. He emphasised the "very important role" played by retail at the heart of Luxembourg's economy and reflected on the current "post-COVID" situation in which shops and restaurants are now open again. He reflected on the support offered to SMEs during and immediately after the pandemic, noting that the government had tried to balance the restrictions in place with adapted financial support, not least for the particularly hard-hit "Horeca" (hospitality) sector. The General Directorate responded to 80,000 requests for financial aid during COVID-19 times and paid out €590 million in aid (mostly in the form of grants), compared to about 100 requests and €20 to €25 million in aid in "normal" times. He cited two single points of contact (one in person, one digital) for SMEs: the House of Entrepreneurship and Guichet.lu. He later noted how the pandemic had accelerated digitalisation, with the possibility to now file all requests for state aid online, although there had been administrative challenges in the beginning. Gilles Scholtus also highlighted trends in the retail sector, according to Luxembourg's commercial cadastre, including the growth of e-commerce and how the growth of shopping centres continues to outpace (for now) that of Luxembourg's city centre.
Chronicle.lu also had the opportunity to speak with some of the MBC partners present, including representatives of long-term partner Cognac Experience (beverages) and more recent partners Clinic Celestetic Anti-Age Center Globe (health and beauty) and Beauty Spa by Luzmila (beauty and wellness), who said they had so far found the programme beneficial.