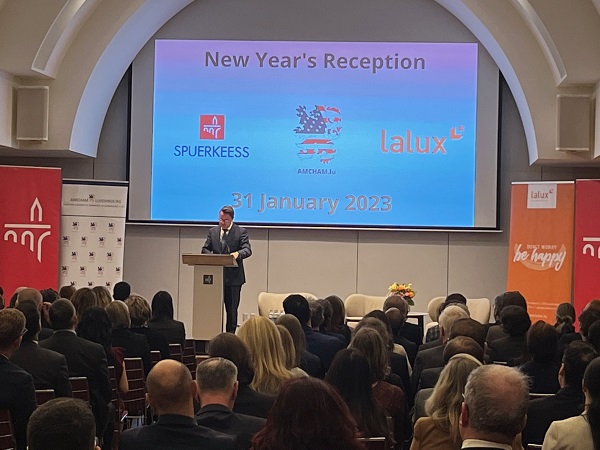 Credit: Chronicle.lu
On Tuesday 31 January 2023, the American Chamber of Commerce (AMCHAM) in Luxembourg held its New Year's reception at the BCEE on Avenue de la Liberté with the Prime Minister of Luxembourg, Xavier Bettel, the guest of honour; the ambassadors of the United States, Japan and Poland were amongst the members and guests attending.

Prime Minister Bettel spoke for half an hour and referred to the ULBC event earlier in the day (the forum on rebuilding Ukraine) addressing how Luxembourg can help Ukraine and referred back to WWII when the Americans helped Luxembourg by liberating it, after a bigger neighbour attacked a smaller one and mentioned the world being divided. In this context, he mentioned solidarity is about sharing values and he explained that he tries to find solutions in all scenarios. He also acknowledged the leaders of the free world sticking together following Russia's invasion of Ukraine.
He recalled talking with Russia's President, Vladimir Putin, and about implementing sanctions against the regime. He said Putin thought he could divide Europe but he was unable to do so. As Europe has stood together, he stressed the importance of unity and collaboration. In this context, he stated that the answer to protectionism is protectionism.

He recalled that Barack Obama was the US President when he first became Prime Minister and stated - not for the only time during his speech - that establishing a level playing field is very important. He acknowledged that Europe has not always taken the correct decision and recalled queues at airports between democratic countries.

Turning his attention away from the war, he addressed the issue of energy and stated that, in order to become less energy-dependent, one needs to use less energy. In this context, he referenced bio cells.

Referring back to when he was a lawyer, and also to him time as mayor of the City of Luxembourg, when he presided over unions and dissolutions: he said "it is better to have a good wedding than a bad divorce."

In addition to the energy challenge, he also mentioned the climate challenge and stressed that we must work together to find solutions. He recalled when US President Donald Trump pulled his country out of the COP agreement, it was interesting that no other countries followed and instead stuck together.

On issues closer to home, he mentioned that his current mandate will come to an end in October. He talked up social dialogue and the tripartite discussions, and he emphasised the indexation of salaries here - he looked across the borders to France and other countries where strikes are happening, where such dialogue is not like here.

On the COVID crisis, he recalled that Luxembourg's economy grew faster than the economies of other countries. And on politics here, he highlighted that many political parties have centric policies and rarely have far-left or far-right issues.

To conclude, he referenced a call for a reduction in working hours but labelled it "poison" and stated that the "baby-boomer" generation is being replaced. He also stated that no one model works for all. He repeated his call for everyone to work together on a level playing field. "Together we are stronger," he recalled, referencing both the past when Luxembourg was an agricultural economy, and the future when faced with challenges such as war, energy and climate change.

Paul Schonenberg, Chairman of AMCHAM in Luxembourg, referred to the chamber's logo of the US flag and Luxembourg's lion, fusing the two countries' values. He thanked the Prime Minister for his support for the chamber over the years and explained how the chamber represents its members and communicates with the government here. He also thanked the BCEE and LaLux for their hosting and hospitality for the event. He referred to AMCHAM being a melting-pot chamber (30% of members are American; 20% are Luxembourgish) just like Luxembourg is a melting-pot of nationalities. He concluded by stressing how AMCHAM members are invested in Luxembourg and making it a success, together.

The event concluded with a networking cocktail.