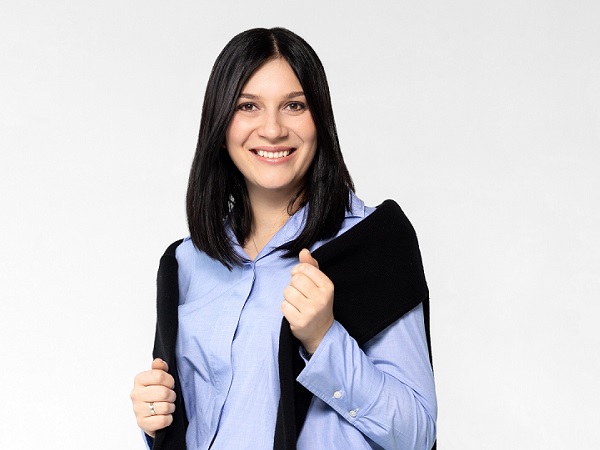 Liudmila Kubovych;
The American Chamber of Commerce in Luxembourg (AMCHAM) has run a Newcomer Orientation course, aimed at people wanting to set up their own business in Luxembourg; following Russia's invasion of Ukraine on 24 February 2022, Luxembourg has welcomed over 4,000 Ukrainian nationals to the Grand Duchy. They have been granted temporary refugee status and have the right to live and work here. Some of them have explored setting up their own companies: for them, AMCHAM has tailored their Newcomer Orientation course and delivered it through Russian.

To date, the course has seen over 500 attendees; each course has been 6 hours long and taught on a Saturday by Sabina Mammadova and and Bakhtiyar Mammadov, at the Chamber of Commerce in Kirschburg and with lunch provided free-of-charge thanks to donations from AMCHAM member companies.

Paul Schonenberg, Chairman at AMCHAM Luxembourg, who gives the Welcome and Closing remarks at each course, explained "The courses have been practical and focused on information needed by Newcomers from Ukraine to hep them get started in Luxembourg. Each participant has also been given free AMCHAM membership for one year to hep them with networking and each has received a free AMCHAM member benefits card (MBC) to allow them to buy things they need at discounted prices".

One such course attendee, Liudmila Kubovych, has successfully launched a business for making curtains, uniforms and other clothing items. Chronicle.lu interviewed her about starting a business in Luxembourg.

Liudmila Kubovych is the owner of the textile production company and design studio "Provence" which has been operating in Ukraine for 12 years, with markets in both HORECA and retail sectors. When she arrived in Luxembourg, she attended the AMCHAM Newcomer Orientation Course and established a branch office of her company in Luxembourg.

Chronicle.lu: Lyudmila, please tell us more about your company. What exactly have you done professionally for 12 years in Ukraine?

Liudmila Kubovych: I started my business with a small curtain studio 12 years ago, I only had a few fabric samples, a sewing machine, design education and the desire to create magnificence. Gradually, I developed my company, step by step, year by year; we grew from a small studio to a large textile production. Today, we have the ability to sew an order all types of textiles for the home and HORECA: curtains, bedspreads, blinds, covers, tablecloths, napkins, towels, bedding and uniforms. We have a large collection of diverse fabrics, so we are able to actualise any order according to interior design, scale or other requests. That is, first we choose fabrics for customers, create a textile design, and then accomplish it individually.

Our secret is non-stop development. I have always struggled to give our customers more benefits and to be a reliable supplier for them. That is why we are constantly looking for new products in our niche and maintaining a high level of service. For example, we work with automatic control systems for cornices and roller blinds. Now many people are updating their homes and establishments, installing smart home systems. We also offer modern solutions in our specialisation, such as the manufacture and installation of roller blinds, and cornices on the control panels, etc. Also, high-quality textiles require detailed and careful vigilance. We desire to unburden our customers of unnecessary worries and provide another additional service - professional care and dry cleaning of textiles. There can be many solutions. It all depends on the request. However, I am pretty sure that speed is another of our significant advantages. We work quickly in Ukraine, the average order fulfilment time is one month. We have a very demanding and competitive market.

Chronicle.lu: With the beginning of the war in Ukraine, you moved here to Luxembourg. Why Luxembourg?

Liudmila Kubovych: Actually, I suppose it was fate that brought me here. In the first days of Russia's terrible war against Ukraine, I just tried to protect my children without deep awareness. 24 February - it was the day when the whole world turned upside down. I took the children and essentials and we drove, often looking for shelter just in the middle of the night with strangers. My friend, her children and I were driving near Luxembourg and suddenly her car broke down in the middle of the road. So we decided to stay here for a few days until the car would be repaired. But when we felt the kindness, sincerity and politeness of the local residents, we were attached to this place and this country with all our heart and soul so decided to stay. I am extremely grateful to everyone who did not turn away from us in our trouble and sheltered us.
We didn't have any relatives and friends abroad at all, but we have been forced to flee the war and horror in my country. I had no idea in which country to settle, but undoubtedly God had his own plans. My infant, 11-year-old son, my mom and I were so tired after a long, exhausting and the most terrible trip in my life. So we stayed in Luxembourg with strangers. And I really fell in love with this country. You know when a family plans to move, they learn everything about the place where they plan to live. A little bit earlier, Luxembourg was just a country on a map, but not anymore now. I can safely call it my second home.
Chronicle.lu: What is the current condition of your business in Ukraine?

Liudmila Kubovych: A few months after the beginning of the war, I decided to continue work and production because, in addition to my children, I am responsible for one more family - my team. Today, it is very important for Ukraine and for all of us in general - to save jobs, continue to pay salaries and taxes, and help the Ukrainian army. Our production is located in a safe place. There is no active warfare in our city. Sure, everywhere there are problems with the lights, but we have already bought generators.
The only problem, of course, is the demand for our services. It is obvious that, during the war, textiles are not essential goods for Ukrainians. That is why the main goal of the new office in Luxembourg is to spread our services among the new customers, and search for a new sales market.

Chronicle.lu: Are there difference between the Ukrainian and Luxembourg markets?

Liudmila Kubovych: Yes, indeed, there is one significant difference: in Ukraine, we generally have a cult of home comfort. People invest large sums of money in the interior and comfort of their homes and institutions. We have been working for 12 years with VIP segment clients and large hotel chains, so it was important for us to fulfil quality standards and find solutions for the orders implementation of various complexity. And now I see in Luxembourg a large number of excellent specialists in various fields, who are also building new houses, furnishing their dwellings and businesses here, and looking for interesting and non-standard solutions. I think our experience will be useful here and we will be able to execute many great projects.

Chronicle.lu: Was the AMCHAM's Newcomer Orientation course useful for you?

Liudmila Kubovych: I am really thankful for this course because it was amazing and become a breath of fresh air in my life and numerous Ukrainian women as well. Frankly speaking, we were not prepared for the circumstances that took place in Ukraine and this event brought me back to reality. Everyone was told that Ukrainian women would come with children and there would be noise and clamour, and it would be a waste of time. The course broke stereotypes and gave the first impulse to build a new life for Ukrainian women here.
Chronicle.lu: What did you learn from this course that has proved to be of particular help to you?
Liudmila Kubovych:After the AMCHAM's Newcomer Orientation course, I had the impression that I have been living in Luxembourg for a year. Sabina talked about very vital topics. Starting from the history of the country itself and the number of nationalities living here, to the opening hours of shops. Everything that was unknown and foreign became clear in an instant. It was interesting and important as well to hear about taxes as I wanted to continue working in my specialist area. The procedure for re-registration of the car was also significant. I can tell about the advantages and warm memories for a long time. I am extremely grateful to everyone who took part in the planning and arrangement of this course because it is tremendous to learn so much information, people spend years, and thanks to the course, we were able to get it in one day.
Chronicle.lu: How you see the development of your business in Luxembourg?

Liudmila Kubovych: Sure, we have not only understanding, but also definite actions. Now we have a lot of paperwork <to do>. I'll be honest, it's not easy for me, because in Ukraine there is a highly-developed level of state digitisation, all corporate administration is done online, so we can solve all issues very quickly. As I said, our businesses generally work very quickly.

Also, we have already represented our company at the HoReCa Expo, which took place on 20-24 November in Ghent, Belgium. We met a lot of awesome people interested in working with us. Our first clients here in Luxembourg charged us with sewing textiles for their home.

In general, even the smallest help or advice is very valuable for us. Ultimately, in Ukraine, we have been working for 12 years to gain success and to be recognised on our market, so most clients wanted to work with us based on recommendations. And now, we understand that we need to start all over again from scratch. We are ready to create comfort in homes and institutions, as well as surprise clients with new and non-standard ideas.