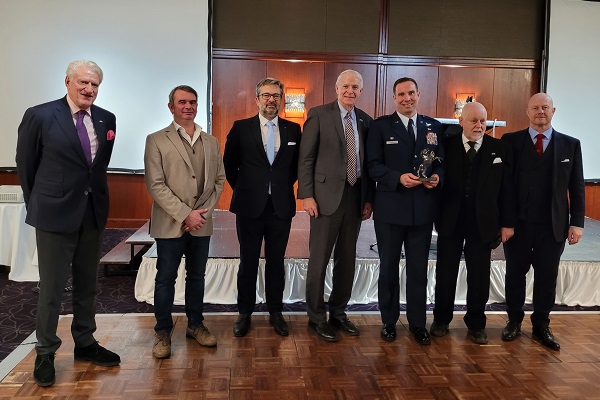 Credit: Jazmin Campbell / Chronicle.lu
On Monday 12 December 2022, the American Chamber of Commerce (AMCHAM) in Luxembourg held its traditional Christmas Lunch at DoubleTree by Hilton hotel in Luxembourg-Dommeldange.
About 120 guests attended this festive lunch, including guest speaker Tom Barrett, the United States (US) Ambassador to Luxembourg, General Steve Thull, Chief of Defence of Luxembourg, Colonel Leslie F Hauck III, Commander of the 52nd Fighter Wing at Spangdahlem Air Base in Germany, Chief Master Sergeant Toby B Roach, Command Chief of the 52nd Fighter Wing, and various resident NATO ambassadors, among others.
AMCHAM Chairman and CEO Paul Schonenberg thanked everyone for joining AMCHAM's last event of the year. He mentioned his recent trip to Bastogne and reflected on how the war in Ukraine, like the Battle of the Bulge 78 years ago, serves as a reminder of the "serious price" of peace and prosperity. He expressed his gratitude for the men and women who served their country then and now, turning his attention to the Luxembourg Army, its NATO responsibilities and its work to ensure peace and prosperity. He noted that several thousand Americans have been stationed at Spangdahlem Air Base, just over the border in Germany, at different times since it became operational on 10 May 1953, and thanked everyone there for their sacrifices in the name of freedom. Paul also recalled an historic event coordinated by AMCHAM earlier this year: in June, a private aeroclub from Luxembourg was granted approval to fly into Spangdahlem Air Base for the formal presentation of flags from NATO ambassadors stationed in Luxembourg. The AMCHAM Chairman and CEO described this visit as a "really powerful experience" for himself and other attendees. He went on to praise the US' military strength and its role in supporting Ukraine in the fight against its Russian invaders. He concluded by recalling that there are people out there making sacrifices so that "we can live free".
In his speech, guest of honour Ambassador Tom Barrett expressed his gratitude for the people he and his wife have met since their arrival in Luxembourg earlier this year. He quipped that he had felt it was fitting to accept the role of US Ambassador to Luxembourg since both the Grand Duchy and Milwaukee (Wisconsin), where he served as mayor for almost 20 years, counted about 600,000 inhabitants. On a more serious note, he reflected on the war in Ukraine and how this has shaped the past year. He recalled how he recently met some schoolchildren from Ukraine in Luxembourg. Many of these children just wanted their families to be reunited this holiday season (many came with their mothers to Luxembourg, but their fathers stayed behind in Ukraine). The US Ambassador added that he was thankful for AMCHAM and the work it has been doing, for example organising orientation courses for newcomers from Ukraine and the visit to Spangdahlem Air Base, in which he participated.
Ahead of the 78th anniversary of the Battle of the Bulge, he recalled his own family connection to this dark period of history and stressed that so many Americans had left behind their homes to fight in a country of which they may or may not have heard in response to Hitler's actions and the threat to democracy and freedom around the world. He expressed his gratitude for those who fought in such battles, recalling that the number of veterans is decreasing (due to their age) and that it is important not to forget them or the sacrifices they made. Ambassador Tom Barrett noted that it was also important to look to the future. He reflected on the importance of international actors like the EU and NATO, as well as the strong friendship between Luxembourg and the US, but recalled that the Grand Duchy still needs to fulfil its NATO obligations (defence spending pledge). He praised the "responsible" and "moral" response of European leaders to Russia's "unjust invasion" of Ukraine. The US Ambassador later concluded his speech by wishing everyone happy holidays.
Whilst guests continued to enjoy their three-course festive meal, Paul Schonenberg presented the 2022 AMCHAM Spirit of Freedom award (in the form of a Swarovski crystal statue) to the 52nd Fighter Wing at Spangdahlem Air Base. Paul thanked the Fighter Wing for its "many years of protecting freedom". Colonel Leslie F Hauck III said that it was an honour to accept this award on behalf of the Fighter Wing and noted that he had been "incredibly fortunate" to be stationed in Europe for the past five years. He added that the past year had particularly highlighted the strength of NATO and expressed pride in the role played by the Fighter Wing at Spangdahlem Air Base in this regard.