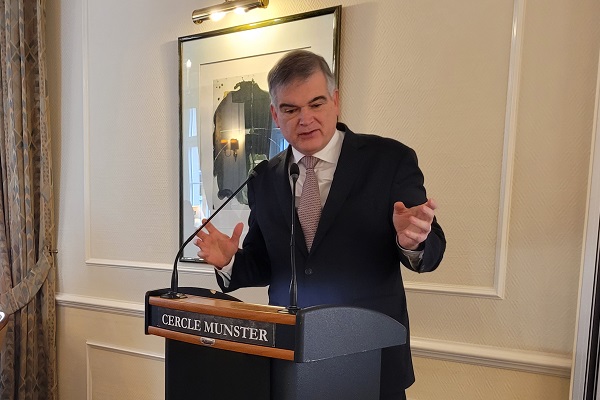 Claude Marx, CSSF Director General; Credit: Jazmin Campbell / Chronicle.lu
On Monday 5 December 2022, the American Chamber of Commerce (AMCHAM) in Luxembourg held its first AMCHAM financial committee Christmas lunch at Cercle Munster in Luxembourg-Grund.
The guest speaker at this special Christmas lunch was Claude Marx, Director General of the CSSF, Luxembourg's financial regulator. The exclusive members-only lunch was sponsored by AMCHAM's financial committee member companies and brought together 70 senior members of Luxembourg's financial sector.
Introducing Claude Marx, who has served as Director General of the Commission de Surveillance du Secteur Financier (CSSF) since 2016, AMCHAM Chairman and CEO Paul Schonenberg praised the "strong, smart and serious" governance that exists in Luxembourg - and to which the CSSF contributes.
In his speech, Claude Marx addressed several topics, namely the challenging current macro-environment, the CSSF's priorities, international scrutiny and the crypto market.
On the first issue, he noted that we have gone from one crisis (the COVID-19 pandemic, which is still not completely over) to another (the war in Ukraine, rising energy prices), noting that the combination of COVID-19-related supply chain issues and the energy crisis are not good for the economy. He added that we are technically in a recession. However, such crises also represented opportunities for the financial services sector; he stressed that part of why Luxembourg emerged from the COVID-19 pandemic relatively unscathed was due to the important role played by financial service providers (FSPs) and banks - a role that deserves greater recognition and should be "broadcast" more. Claude Marx added that financial services could also be part of the solution in the area of climate change; public money alone will not be enough to solve this problem.
The CSSF Director General then presented a non-exhaustive list of the CSSF's priorities, which included business plans which are fit for both today and tomorrow (digitalisation and green finance are particularly important) and corporate strategies which should be fit for purpose, for example in the area of cyber risk. He also recalled the importance of having liquidity management tools in place, since further liquidity squeezes in future are not excluded.
He addressed the matter of constant international scrutiny regarding financial regulation, with peer reviews at the level of European supervisory authorities remaining particularly important. He added that common supervisory actions would also remain important. One example of such scrutiny was an ongoing mutual evaluation by the Financial Action Task Force (FATF) which will be completed in June 2023; this mutual evaluation looks at technical compliance for anti-money laundering and countering terrorist financing on the one hand and the effectiveness of the system on the other.
Concerning the crypto market, Claude Marx stated that he remained neutral on the subject but felt that recent developments (allegedly unforeseen bankruptcies) had proven that this was still the "Wild West", where there is neither governance nor due diligence. He lamented that retail clients and particularly young people were losing so much money in this space. He emphasised the need for institutions to be mindful of the fiduciary duties of investor protecton as well as the importance of financial (and investor) education, an area in which regulators do not currently have the best reputation.
In his concluding remarks, Claude Marx touched on a couple of other topics, namely the continued need for gender diversification in financial services, where women remain largely underrepresented in senior positions (despite evidence that diverse companies are more likely to outperform their peers). However, before adopting quotas, as has been done in other European countries, the CSSF Director General recalled that there are many other uncomplicated ways to promote women in leadership roles. He also highlighted the important role of training, particularly in terms of digitalisation and green finance. He added that outsourcing remained an underutilised tool in areas such as Know Your Customer (KYC) and due diligence regulations. Reporting, albeit costly and time-consuming, also added value; perhaps the industry could come up with different ways to report together with regulators and the government since this is a common interest. On the subject of training and talent shortages, Claude Marx recalled that good training courses are already available but institutions need not wait for others to solve the issue of talent shortages; instead, they can help design or coorganise training courses and help solve this issue themselves.
Claude Marx's speech was followed by a Q&A session, whilst guests enjoyed their three-course Christmas lunch, accompanied by bread, wine and, later, tea and coffee.
As Paul Schonenberg recalled, the festive spirit will continue into next week at AMCHAM, which is organising its larger, more traditional Christmas lunch celebration, in the presence of US Ambassador to Luxembourg, Tom Barrett, and his wife, at DoubleTree by Hilton Hotel in Luxembourg-Dommeldange on Monday 12 December 2022, from 12:00 to 15:00. This will be AMCHAM's last event of the year. Tickets cost €100 for AMCHAM members and €125 for non-members and are available online at: https://www.amcham.lu/events/amcham-christmas-lunch/.
AMCHAM will then kick off 2023 with a New Year's reception at the BCEE's premises at 19 Avenue de la Liberté in Luxembourg-Gare on Tuesday 31 January 2023, from 18:00 to 22:00. Luxembourg's Prime Minister Xavier Bettel will be the guest speaker at this exclusive event. Tickets go on sale on 15 December 2022 at: https://www.amcham.lu/events/amchams-new-year-reception/.