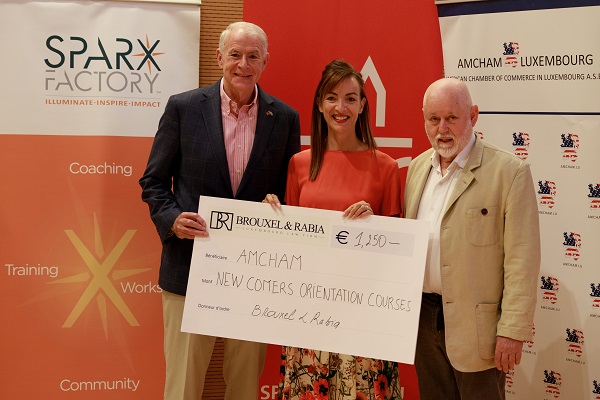 AMCHAM orientation course sponsors and partners; Credit: Ali Sahib
On Saturday 18 June 2022, the American Chamber of Commerce in Luxembourg (AMCHAM) held its fourth orientation class in Russian at the Chamber of Commerce in Luxembourg-Kirchberg.
This orientation course is aimed at Ukrainian nationals who have been displaced from home as a result of the Russian invasion on 24 February and the continued war in their country; currently, around 5,500 Ukrainian nationals have arrived in Luxembourg and slightly over 300 attendees have received this training. On Saturday, another 85 people registered to attend.
Before the start of Saturday's fourth such class, the United States (US) Ambassador to Luxembourg, Tom Barrett, was in attendance as were a number of corporate sponsors, including Hannah Mitchell of Medical Properties Trust, Samia Rabia of Brouxel & Rabia lawyers and Mirko Persuric of TravelPro American Express, as well as partners, including Bibi Wintersdorf of Kachen magazine, Simône van Schouwenburg of BCEE - Spuerkeess and Catharina Biver of Sparx Factory.
Paul Schonenberg, AMCHAM Chairman, welcomed everyone and explained the aims of the course and introduced the day's presenter, Sabina Mammadov, who he explained was from Azerbaijan and had fluent Russian; he apologised for not being able to have the course presented through Ukrainian as he had nobody qualified to teach in that language.
Talking earlier with Chronicle.lu, Paul Schonenberg explained that the course is an unsubsidised AMCHAM initiative which has been well appreciated by all attendees to date. He was also immensely grateful to all partners, including the Luxembourg Chamber of Commerce which was providing rooms to use free-of-charge, LaLux insurance, BCEE - Spuerkeess, the Automobile Club of Luxembourg (ACL) and Luxembourg Times which were contributing towards covering the costs of the sandwich lunches. In addition, he explained, every attendee receives a free one-year AMCHAM membership to help them with networking and a free MBC card to help them buy what they need cheaper prices.
Ambassador Barrett participated in the photo opportunities with the sponsors who had contributed with cash (also in-kind) to supporting these orientation courses.