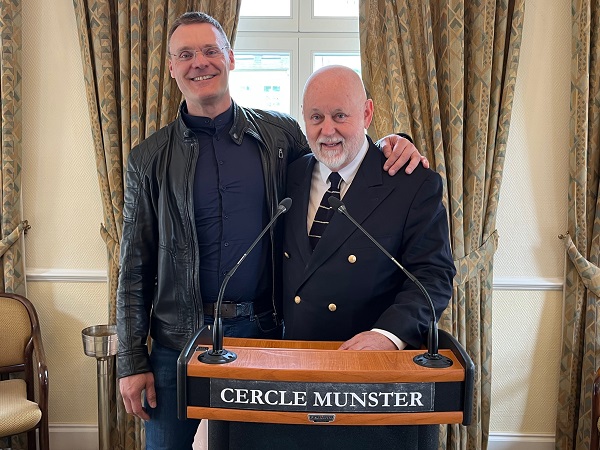 (L-R): Gilles Feith, Luxair CEO; Paul Schonenberg, AMCHAM Chairman; Credit: Geoffrey Thompson
On Tuesday 7 June 2022, the American Chamber of Commerce in Luxembourg (AMCHAM) hosted an ABAL luncheon at the Cercle Munster in Luxembourg-Grund, with Gilles Feith, CEO of Luxair, speaking on the topic of "Flying out of the pandemic".
Following a tour de table of the 25 attendees in which everyone introduced themselves, Paul Schonenberg, AMCHAM Chairman, talked briefly about AMCHAM's activities, including mentioning the Summer BBQ on 2 July at Mamer Plage.
He introduced the guest speaker, mentioning that before becoming CEO of Luxair during the pandemic in June 2020 he was Head of cabinet to the Minister of Defence (Jan 2019 - Jun 2020) and Director of the Centre des Technologies de l'Information de l'Etat (CTIE, Apr 2014 - Dec 2018).
Gilles Feith started by explaining that he joined Luxair on 1 June 2020, when he was in charge of an airline that did not fly. He also addressed US-Luxembourg relationships and talked about Luxair flying to the US, with the former US Ambassador to Luxembourg, Randy Evans, initiating a lot of dialogue in that context; after he left, Gilles Feith resumed discussions with the new US Ambassador, Tom Barrett, and confirmed that a Luxembourg-US direct flight cannot happen alone, not just now, but in one-three years' time, in a codeshare agreement with a US carrier.
He explained that the LuxairGroup is not just a passenger airline, it is also a significant tour operator. Its fleet is "too small today" with eleven De Havilland Q400 (which he described as very efficient) for short-haul, as well as eight Boeing 737s for medium-haul, and one Embraer 190 (on a wet-lease) also for short-haul flights. With almost 3,000 people employed, around 500 are pilots.
In 2019, there were around 2.2 million passengers flown by Luxair, with 1.1 million flying in 2021 (with growth mainly to non-Schengen destinations); they recorded a nett zero result for last year. Regarding business travel he said "I see it coming back".
Answering a question from an attendee, he explained that Luxair no longer flies to Frankfurt as Lufthansa flies this route, with those passengers normally connecting to other Lufthansa flights.
In the cargo business, they handled 1.1 million tonnes last year, which theoretically is more than the technical capacity of the airport. The Russian invasion of Ukraine has impacted the cargo business as flight paths have had to be changed; also, the COVID-19 pandemic in China has resulted in a slow down of cargo.
So far this year, Luxair has transported 400,000 passengers in the first four months, a significant increase.
The airline "burned a lot of cash" when it was not flying during the pandemic; it received similar government subsidies as did other companies. Those on higher salaries received up to 80% from the government (as chomage partiel), but with a limit of €5,500 monthly: he explained that the pilots were directly involved in this, amongst others.
He explained that planes in operation must fly a minimum of 100 hours monthly; therefore, Luxair tried to get as many planes back in the air when they started flying again.
Currently, Luxair serves 90 destinations in 30 countries which is up 25 since 2019. Bologna (Italy), Bordeaux (France) and Dubai (UAE) are among the new destinations: Dubai, in particular, proved to be very popular with passengers. He also revealed that there are more destinations to be announced.
Gilles Feith continued after the main course was served and explained that Luxair, coming out of the pandemic, lost around 90% of market share of the German passenger market; this is now recovering.
He explained that Luxembourg has the highest labour costs in Europe; therefore Luxair has to invest in quality and the community, as well as taking responsibility of environmental issues: flying should be "something special". He also criticised airlines that offer flight prices that are less than the airport taxes: he explained that someone will pay, whether it is by employing freelance pilots or in other ways and added that Luxair offers "high quality travel experiences".
In mid-December, Luxair had to cancel 5,000 passengers after the Ministry of Health implemented new restrictions; Luxair had to adapt by implementing a range of measures, including paying hotels and arranging medical companies to come to hotels to conduct PCR tests. Again, in February, people in destinations such as Cap Verde were in quarantine. Luxair still carries FFP2 masks on board if any passenger(s) choose to wear one.
In response to a question about a rise in prices, he confirmed that the average price of LuxairTour's packages have risen around 10%, explaining that they have to add in increases in hotel prices, etc. He also said that Luxair has retained its Classic fare which has "remained untouched", and they have added on a new price without check-in luggage which he admitted makes it look cheaper to booking engines, as other airlines do. Other projects he mentioned were the relaxing of the cabin staff dress code, as well as encouraging young people looking for adventure holidays, and also flying into and out of different airports without any price increases. Luxair took a stand against violence against women and also collaborated with Rose Luxembourg to support the LBGTQ+ community in Luxembourg. He also mentioned about paying attention to gender and age mixes in Luxair's catalogues.