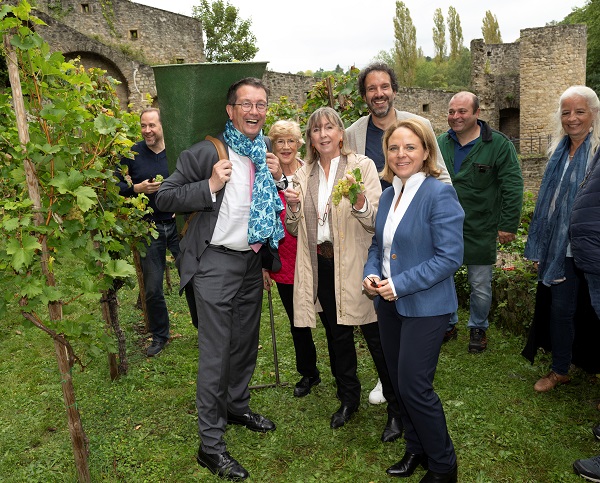 Credit: VdL Photothèque / Charles Soubry
On Monday 18 September 2023, the College of the Mayor and Aldermen of the City of Luxembourg (Ville de Luxembourg - VdL) participated in the traditional grape harvest in the vineyards of the "Klouschtergaart" gardens, located at the foot of the Bock rock.
In 2004, as part of its partnership with the Landesgartenschau (regional garden show) of Trier, the City of Luxembourg restored these terraced gardens and once again cultivated vines and medicinal plants, alongside the vegetable crops that had always been cultivated there. In the vineyard, with an area of approximately 4 ares, Luxembourg vines (Elbling, Rivaner, Pinot, mixed, etc.) are grown following the "old" method, i.e. each vine stock is cultivated individually.
The Klouschtergaart harvest, which yields about 260 kg of grapes, will enable the production of approximately 200 litres of wine. This particular wine is not intended for sale, but rather is served at receptions held by the City of Luxembourg or given as a gift during official visits to the City Hall.