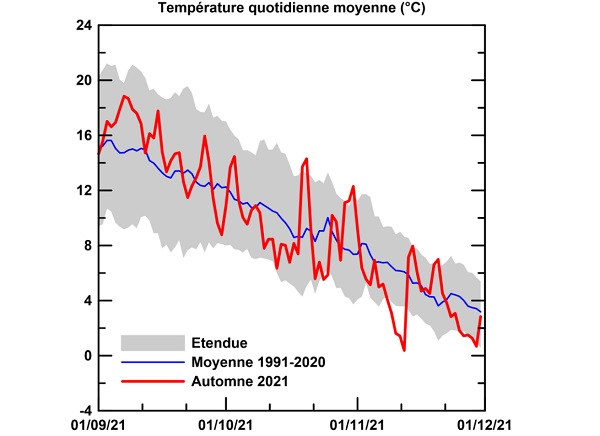 Average daily temperature for autumn 2021 in Clemency (red) compared to 1991-2020 reference period (blue); Credit: ASTA
According to the ASTA weather bulletin, this year's autumn was slightly too cold and too dry in Luxembourg.
As autumn 2021 draws to a close, AgriMeteo, the national meteorological service of the ASTA (Administration des services techniques de l'agriculture) of the Ministry of Agriculture, Viticulture and Rural Development, has published its weather analysis for the period from 1 September to 30 November 2021.
The analysis looked at the network of 32 automatic weather stations across the Grand Duchy. The three-month values of four representative stations, i.e. Asselborn (north), Clemency (south-west), Remich (Moselle) and Grevenmacher (Moselle), were compared with the averages of the reference period 1991-2020.
Overall, the autumn of 2021 was slightly colder across most of the country than recent seasonal averages, with slightly higher values recorded in parts of the Moselle Valley. In terms of rainfall, a deficit was recorded in all regions, with rainfall reaching between 65% and 85% of the seasonal averages for the reference period.
September: hot and fairly dry weather
September was warmer than the benchmark average overall, with more pronounced temperature peaks in the first and last week of the month. Across the country, November was too dry, with a slightly more pronounced rainfall deficit in the north.
In the Moselle, the dry weather, hot days and cool nights favoured the ripening of grapes and the development of aroma precursors in September. At the start of the harvest, on 27 November 2021, the winegrowers were rewarded with ripe, good-quality grapes in normal quantities. According to ASTA, the grapes harvested promise for a fruity and refreshing vintage with moderate alcohol contents.
October: Storm Aurore and slightly too cold weather
In October, the most significant event was Storm Aurore which blew over Luxembourg on the night of Thursday 21 October 2021. AgriMeteo's station network recorded gusts between 70 and 90 km / h, with a maximum of 98 km / h recorded at Eschdorf. October was slightly too cold except for some places in the Moselle Valley.
November: too cold and too dry
In November, temperatures were clearly below seasonal averages. A first drop in temperature manifested itself during the second week, and from 20 November, a cold snap persisted in the Grand Duchy until the end of the month, when the first snow arrived in the Oesling ( 6.6 cm in Reuler). There was a deficit of rainfall throughout the country.