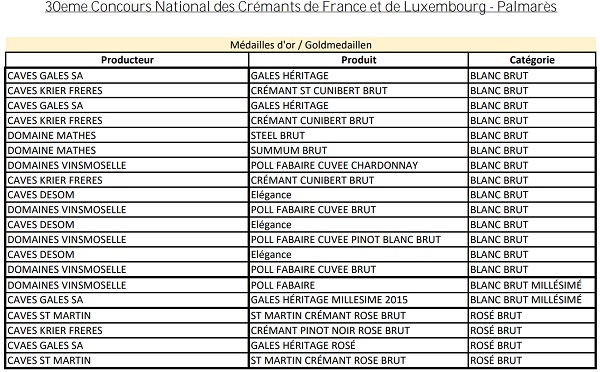 Luxembourg's Ministry of Agriculture, Viticulture and Rural Development has confirmed that Luxembourg crémants have won a total of 20 gold medals at the 30th edition of the Concours National des Crémants de la France et du Luxembourg, which took place this year once again in unusual conditions.
Due to the current situation, the meeting of the nine regions producing crémants (Alsace, Burgundy, Bordeaux, Limoux, Loire, Die, Jura, Savoie and Luxembourg Moselle) was not possible and the large tasting scheduled for early May in Beaune had to be cancelled. Nevertheless, the National Federation of Crémant Growers and Producers proposed a concept adapted to COVID-19.
The tasting, during which representatives of the different regions form a jury and discuss the properties of the crémants, was replaced this year by a regional jury. More than 70 different crémants were proposed to the jury, made up of winegrowers, oenologists, representatives of Horesca and journalists. The crémants were tasted blind at five tables in five categories (Blanc Brut, Blanc Brut Millésimé, Rosé Brut, Blanc de Noirs Brut and Special Cuvées).
20 Gold & 5 Silver Medals
The popularity of crémant on the Luxembourg wine market is demonstrated by the fact that 3.5 million bottles of crémant are now produced annually, compared to 2.1 million bottles in 2010.
In total, Luxembourg's crémants won 20 gold and five silver medals.