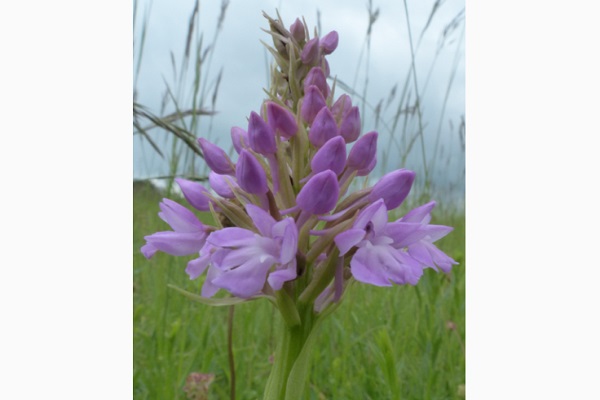 Bee Together Luxembourg and natur&ëmwelt have announced two upcoming events aimed at actively improving biodiversity on Saturday 1 February from 09:00 near Wintrange and on Saturday 7 March 2020 from 10:00 near Diekirch.
These events are an opportunity for the public to get exercise and improve biodiversity at the same time. By joining these efforts, not only will participants be helping orchids and pollinators, but they will also be contributing towards good health and psychological well-being.
Semi-arid calcareous (chalky) dry grasslands are one of the most species-rich areas, resulting in a large diversity of plants that supports an abundance of insects and spiders, the foundations for a whole ecosystem. To protect this biodiversity, these grasslands have to be maintained by grazing and / or cutting, otherwise shrubs and trees will take root and crowd out the grasses and flowering plants. These areas are also vital for plant species with low interspecies competition, such as orchids.
These two upcoming events with natur&ëmwelt and Bee Together invite the public to volunteer some of their time on a Saturday to work to keep these areas open for orchids.
No prior experience is necessary and participants are free to stay and work for as long as they wish. Children are also welcome.
To register for the first event, see https://www.eventbrite.com/e/bee-active-keeping-a-meadow-open-for-orchids-tickets-88273017973; for the second event, see https://www.eventbrite.com/e/bee-active-lend-a-helping-hand-to-orchids-and-rare-insect-species-tickets-85079616423.
In addition, on Saturday 29 February 2020 from 09:30 onwards, volunteers with natur&ëmwelt and Bee Together will clear a dry grassland of unwanted shrubs as well as plant common juniper (Juniperus communis) trees, near Graulinster. For further information and to register, visit https://www.eventbrite.com/e/bee-active-clear-a-nutrient-poor-grassland-and-plant-juniper-trees-tickets-85067596471.