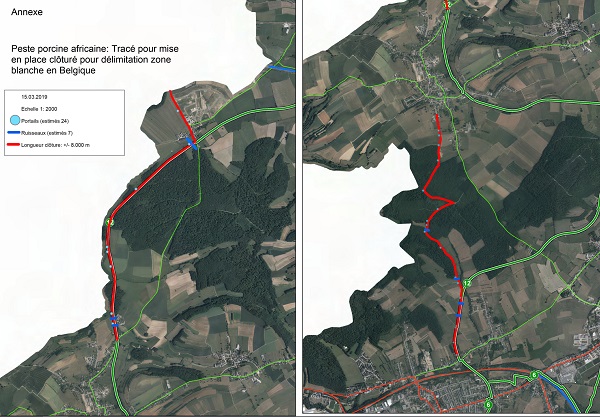 Fenced area; Credit: MA
The Luxembourg government has announced plans to install a fence along the Belgian border as a preventative measure against African swine fever.
Luxembourg Minister of Agriculture, Viticulture and Rural Development Romain Schneider today gave an overview of the preventive measures against African swine fever in the Grand Duchy, which, to date, has recorded no cases of the disease.
These measures include the installation of an eight-kilometre fence along the Belgian border, to be completed by late-April to mid-May 2019. Work began on the fence last Wednesday along the cycle path parallel to the Belgian-Luxembourg border, between Linger and Grass. At present, one kilometre of fence has already been erected. As work progresses, three business days are required to erect one kilometer of fence.
The work is carried out by 30 military and civilian members of the army and the staff of the Roads Authority in charge of the coordination of the site, as well as employees of the Maschinen- und Betriebshilfsring Lëtzebuerg. The Forest and Nature Administration (ANF) is involved in the sections crossing the forest. As such, the Ministry of Agriculture, Viticulture and Rural Development, the Ministry of Mobility and Public Works, the Directorate of Defence and the Ministry of the Environment, Climate and Sustainable Development will work together in close collaboration. The Luxembourg authorities are also working with the European, Belgian and French authorities in order to stop the spread of the virus.
In this context, the establishment of a white zone along the Belgian-Luxembourg border, between the fences, is already in force. Last Friday, Cabinet ministers approved the draft Grand-Ducal Regulation laying down preventive measures against the introduction and spread of African swine fever. Inside this area, the depopulation of wild boars will be carried out to prevent the spread of the virus. The depopulation plan will be developed by the Veterinary Services Administration and the Administration of Nature and Forests.
Other preventive measures remaining in force include a surveillance zone, bounded on the north by the A6 motorway from Steinfort to Luxembourg, on the east by the A4 from Luxembourg to Esch-sur-Alzette, as well as by the Belgian and French borders, and analyses of the corpses of wild boars, whose cause of death is unknown, as well as the guaranteed operation of collection centres for game. The government similarly issued an urgent warning to hunters and farmers to respect biosecurity rules and invited hunters to shoot as many wild boars as possible. There is also an obligation to confine domestic pigs in the surveillance zone.