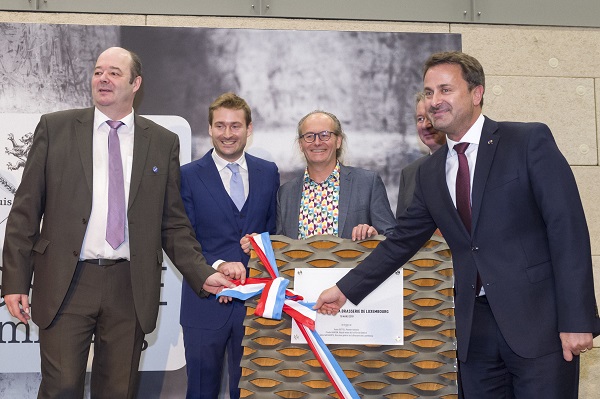 Diekirch Brewery Inauguration (L-R): Claude Haagen, Mayor of Diekirch; Gilles Nackaerts, Brasserie de Luxembourg; Claude Turmes, Minister of Spatial Planning & Energy; Pierre Van Vynckt, Director, Brasserie de Luxembourg; Xavier Bettel, Prime Minister; Credit: © SIP / Jean-Christophe Verhaegen
On Friday 15 March 2019, the inauguration of the new buildings of the Brewery of Luxembourg in Diekirch were inaugurated in the presence of a number of dignatories including Luxembourg's Prime Minister, Xavier Bettel.
During his speech, Prime Minister Bettel was very satisfied with the Anheuser-Busch InBev group's investment of €25 million in this new brewery. "This investment underlines the group's deep attachment to the Diekirch site and to Luxembourg in general," said PM Bettel.
He was impressed by the technology used in the new installations: "I am very pleased to see that the Brasserie de Luxembourg has made ecology a priority, whether in the use of recyclable packaging, the valorisation of CO2 emissions, the treatment of wastewater and the reduction of energy consumption and the use of clean energy sources."
Finally, the Prime Minister stressed that with this new investment Diekirch-Mousel Brewery contributes to the new face of Luxembourg as a "smart nation", modern, open, highly connected and ready for a digital society in all areas without however forget the traditions and its historical past.
The foundation stone for the €25 million instment was laid on September 2017 as part of the "Dräieck Dikrech" urban renewal project, in the presence of Luxembourg's Deputy Prime Minister and Minister of Economy, Etienne Schneider, and Deputy Mayor of Diekirch, Claude Haage. At this event, Arnold Blondeel, Director of the Brasserie de Luxembourg Mousel-Diekirch had said "The new brewery will allow us to brew Mousel and Diekirch beers in preferential conditions. Facilities in the new brewery will meet the most up-to-date energy efficiency requirements and allow for more sustainable brewing facilitating a reduction of more than 15% in electricity consumption. Reuse and new sanitation initiatives will lead to a 20% reduction in water consumption and in particular a 75% reduction in CO2 emissions."
Retrospective on how the project developed
June 2010 - Saphir Capital Partners together with other Luxembourg entrepreneurs purchase the Brasserie de Luxembourg Mousel-Diekirch site with the aim of maintaining the brewing of Luxembourg's favourite beer at Diekirch and restoring the historic site.
May 2012 - An application for the private sector development project is submitted to the relevant authorities and presented to the public at a press conference.
April 2013 - The project is approved by the authorities.
March 2014 - Saphir Capital Partners forms a joint venture (Coogee S.à r.l.) with Matexi Luxembourg (subsidiary of the Belgian group Matexi) which takes over the day-to-day management of the project.
27 June 2014 - The execution agreement is submitted for approval by Diekirch's town council.
23 October 2015 - Brasserie de Luxembourg Mousel-Diekirch announces an investment of €25 million in the new brewery.
9 June 2016 – Coogee S.à r.l. obtains the first building permit from the municipal authorities.
26 September 2017- Laying of the first foundation stone of Brasserie de Luxembourg