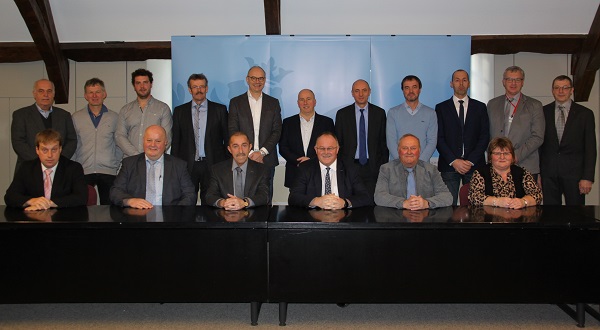 Minister Romain Schneider with Bauerenallianz representatives; Credit: MA
On Tuesday 8 January 2019, Luxembourg's Minister of Agriculture, Viticulture and Rural Development, Romain Schneider, hosted a New Year's Reception and welcomed a large delegation from the Bauerenallianz (farmers' association) led by President Camille Schroeder and Vice President Marco Koeune.
The Bauerenallianz representatives congratulated Romain Schneider on his new term, thanked his predecessor Fernand Etgen and welcomed the regular constructive dialogue with all the services of the Ministry.
In his retrospective on the year 2018, Marco Koeune focused on the vagaries of the climate and weather, the post-2020 reform of the Common Agricultural Policy, the difficult access to agricultural land, the challenges posed by water protection zones, the importance of safety and food self-sufficiency in Luxembourg, and the maintenance of a strong agriculture rooted in the national economy.
Minister Schneider reiterated the importance of agriculture in the government programme, stating that "modern agriculture must be based on the three pillars of economic, ecological and social sustainability". To do this, the Ministry of Agriculture will collaborate with those of the Environment, Health, Tourism or Finance. Another major challenge will be the digitisation of agriculture and the opportunities brought by new technologies.
Among the other medium-term priorities, the Minister mentioned, among other things, protection zones around Lake Haute-Sûre, the maintenance of the measures to prevent African swine fever, the draft law on accreditation a system of quality or certification of agricultural products, a communication promoting local products and the holding of the General Assembly of the World Farmers' Organisation in Luxembourg in May 2019.
All parties agreed to collaborate constructively in the service of ambitious Luxembourg and European agriculture during the new legislative period.