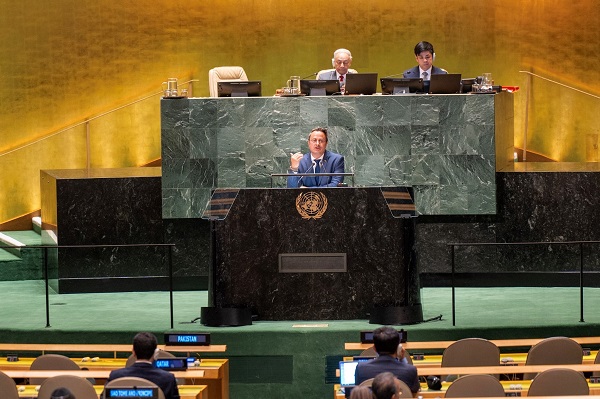 Xavier Bettel, Luxembourg's Prime Minister; Credit: ME
From Wednesday 20 to Friday 22 September 2023, Luxembourg's Prime Minister Xavier Bettel travelled to New York to take part in the 78th session of the United Nations General Assembly (UNGA).
On the first day of his visit, Prime Minister Bettel participated in a reception with members of the Luxembourg community, in the presence of Prince Guillaume, Hereditary Grand Duke of Luxembourg, at the Luxembourg House in New York City.
On Thursday, Luxembourg's Prime Minister signed a memorandum of understanding (MoU) with Franz Paasche, SVP Chief Corporate Affairs Officer of Paypal. This MoU concerns the continuation of the Paypal-FNR Chair within the Interdisciplinary Centre for Security, Reliability and Trust (SnT) at the University of Luxembourg. With the extension of this partnership, according to Luxembourg's Ministry of State, SnT confirms its international leadership in the field of emerging technologies within the financial services sector.
That same day, Prime Minister Bettel participated in an event on promoting investment to achieve the Sustainable Development Goals (SDGs) in emerging and developing economies. José Ulisses de Pina Correia e Silva, Prime Minister of Cape Verde, Uzziel Ndagijimana, Rwanda's Minister of Finance and Economic Planning, Werner Hoyer, President of the European Investment Bank, and Julie Becker, CEO of the Luxembourg Stock Exchange, participated in the discussion. Prime Minister Bettel reiterated during his speech that global crises require close coordination at the multilateral level, also in the area of sustainable financing. He highlighted Luxembourg's expertise when it comes to creating innovative partnerships between public and private sector actors.
He also met with the Prime Minister of Georgia, Irakli Garibashvili, on Thursday.
Luxembourg's Prime Minister began the last day of his visit (Friday) with an exchange with the Prime Minister of Andorra, Xavier Espot Zamora. He then spoke with António Guterres, Secretary-General of the United Nations, notably about Russia's war of aggression against Ukraine and its global consequences and the need to promote solidarity with developing countries. The Secretary-General thanked Luxembourg for its determined commitment to multilateralism and progress in the implementation of the SDGs. Prime Minister Bettel, for his part, highlighted the importance of dialogue and the crucial role of the United Nations.
Luxembourg's Prime Minister also intervened in the general debate of the 78th session of the UNGA. He particularly spoke out on the need to act quickly, concertedly and effectively for sustainable development and in the fight against climate change and emphasised the universality of human rights.