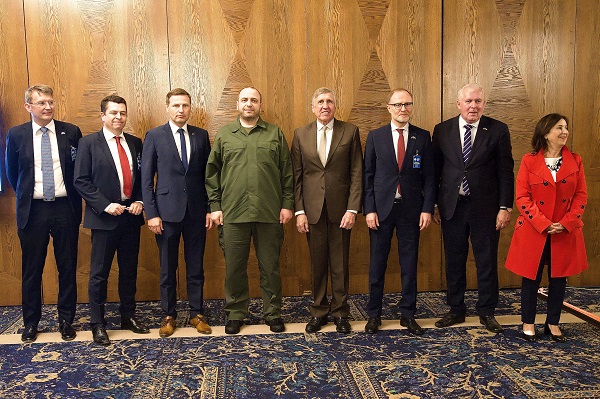 (Fourth from right) François Bausch, Luxembourg's Deputy Prime Minister and Minister of Defence; Credit: MAEE
On Tuesday 19 September 2023, Luxembourg's Directorate of Defence announced the launch of a new IT Coalition aimed at supporting Ukraine's defence.
During the Ukraine Defence Contact Group (UDCG) meeting at Ramstein Air Base in Germany on Tuesday, the defence ministers of Luxembourg, Estonia and Ukraine conducted a kick-off meeting for this new IT Coalition. A total of seven countries participated in this kick-off event. Belgium, Denmark, Latvia and Lithuania have already joined the initiative by signing a declaration of intent together with Estonia, Luxembourg and Ukraine.
"The IT Coalition is starting to take form under the lead of Luxembourg and Estonia. Luxembourg is unwavering in its support to Ukraine, for as long as it takes. Aside from having taken a leading role in coordinating the IT coalition, Luxembourg pledges €10 million for 2023 to launch this initiative. Together with other donating nations, and with the support of NSPA [the Luxembourg-based NATO Support and Procurement Agency​], we will build a secure and reliable ICT infrastructure for Ukrainian Defence," announced Luxembourg's Deputy Prime Minister and Minister of Defence, François Bausch.
"The IT Coalition will focus on the delivery of a secure and resilient IT infrastructure for the Ministry of Defence of Ukraine and Defence Forces which enables Ukraine to be more efficient and effective on the battlefield. We are grateful to Estonia and Luxembourg for their leadership in driving this initiative forward. I would also like to thank Belgium, Denmark, Latvia and Lithuania for joining us in this endeavour and to Luxembourg for already announcing the first pledge to the IT Coalition," said Ukraine's Minister of Defence, Rustem Umerov.
The intent to establish this initiative was first announced during the UDCG meeting on 15 June 2023. The IT Coalition is a dedicated group of donor nations led by Estonia and Luxembourg within the UDCG framework focused on delivering support to Ukraine's Defence Forces in the area of IT, communications and cybersecurity.