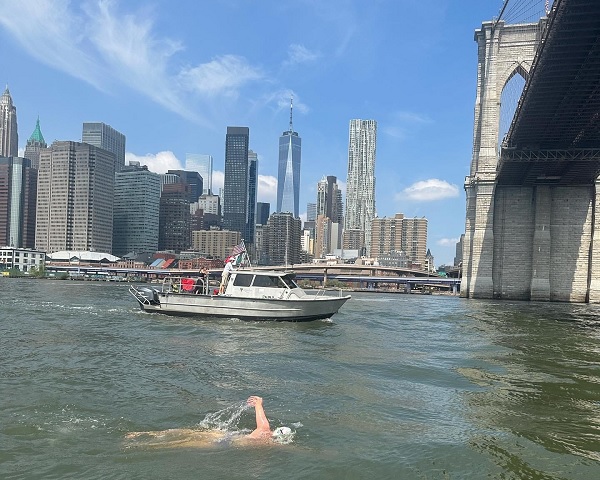 Paule Kremer swimming around Manhattan Island on the "20 Bridges" open-water swim; Credit: Paule Kremer social media
On Saturday 5 August 2023, Luxembourgish open-water / long-distance swimmer Paule Kremer achieved the "Triple Crown" in open-water swims by completing the "20 Bridges" swim around Manhattan Island in New York City in a time of 8 hours, 13 minutes and 14 seconds.

She completed the English Channel swim (between England and France) in 2017 and the Catalina Channel (in California) open-water swim last year. The "20 Bridges" swim is 48.5km, whereas the English Channel swim was 60 km (13 hours, 54 minutes) and the Catalina Channel Swim as 32 km (in 13 hours, 54 minutes).

The "20 Bridges" is traditionally completed in a counter-clockwise direction and is a full loop, with an in-water start and finish. Regardless of which side swimmers breathe, they have interesting scenery the whole time, including many bridges (swimmers often choose to swim backstroke underneath so as to best enjoy the view) and famed skyscrapers such as the Empire State Building and the Freedom Tower, as well as many piers, neighbourhoods and types of transportation in New York.

The swim travels through three "rivers" that are actually all tidal straits or estuaries (not freshwater): the East River (connecting New York Harbor to Long Island Sound) has some ripping-fast tides that will have swimmers shooting under the iconic Brooklyn Bridge linking Brooklyn and Queens; the Harlem River, connecting the East River to the Hudson, is quite mellow by comparison, with relatively calm waters and a slower current - it is crossed by fifteen bridges, mostly between Manhattan and the Bronx; and the mighty Hudson, separating Manhattan from the state of New Jersey.

Shortly after she finished, Paule Kremer took to social media and revealed that it "started with the organiser telling me that unfortunately my kayaker did not show up, so I had to feed off the boat. No problem and more contact with my boat crew... Aside from the sightseeing, I did manage to throw up a couple of times again, so I had only water for the most part of the swim which was nice considering it was way too hot in all those rivers! I was not even worried about my food intake as the current just takes you on such an incredible ride that you feel invincible throughout."

Chronicle.lu caught up with Paule Kremer on Sunday 6 August 2023 and asked her about her experience.

Chronicle.lu: Congratulations, you have just completed the "20 Bridges" swim around Manhattan Island, achieving the "Triple Crown" in the process. How are you feeling now?

Paule Kremer: I feel surprisingly awake and my body does not hurt as much as it did after the other two channels. Even though I was walking around New York most days before my swim and today after having swum!

Chronicle.lu: For the 20 Bridges swim, were you allocated a specific time / time slot, and were there other swimmers in the water at the same time?

Paule Kremer: Unlike in the English Channel, I did get a very specific date for the 20 Bridges and it was 99% sure I would swim on that date. There were three (others) of us, a Mexican woman, a man from Guatemala as well as a swimmer from the US.

Chronicle.lu: Was this open water swim different from the others in any way?

Paule Kremer: It was different in that I was actually mentally occupied because of all the sightseeing and the things happening in and around the water. It was not as boring as the other swims I have done so far.

Chronicle.lu: Did you spot any particular sights while you were swimming, or were you too focussed?

Paule Kremer: Luckily, I was actually able to see and enjoy all the famous Manhattan sights.

Chronicle.lu: What were the main challenges during the swim? Were there currents or other obstacles?

Paule Kremer: The most difficult challenge was to hit the currents so that I was actually swimming with them throughout the entire swim. I had some slack time but because I had a later start than planned, I really had to swim strong up the East River not to get trapped swimming against the Harlem (river) at the beginning.

Chronicle.lu: How long did you train for this challenge, and did your preparation differ from that for other open water swims?

Paule Kremer: My training was ten months, like for most of the other swims, but I did not train six and seven hours maximum, but was only swimming around five hours maximum.

Chronicle.lu: What did you do in the 24 hours immediately before the swim? Relax or exercise? Load up on carbs?

Paule Kremer: I did some sightseeing and made sure I had enough pasta the night before.

Chronicle.lu: You had a number of sponsors and you supported a number of charities with this swim: how were they involved and how did they benefit?

Paule Kremer: I swam for Fondation Cancer this year; people can donate following this link.

Chronicle.lu: What is your next challenge?

Paule Kremer: I am not sure yet but I do think it will be the North Channel between Ireland and Scotland!