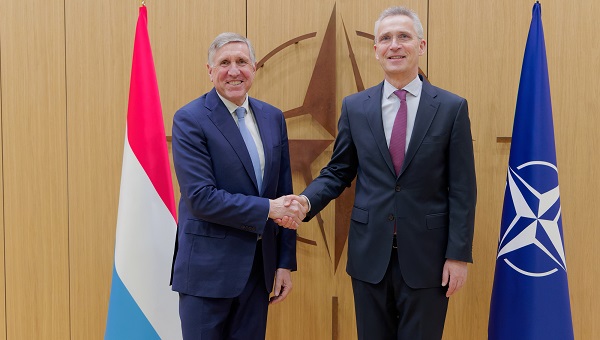 François Bausch, Luxembourg's Deputy Prime Minister and Minister of Defence; Jens Stoltenberg, Secretary General of NATO; Credit: NATO
On Monday 20 March 2023, Luxembourg's Deputy Prime Minister and Minister of Defence, François Bausch, had a meeting with the Secretary General of NATO, Jens Stoltenberg, at the organisation's headquarters in Brussels.
Both strongly condemned Russia's war of aggression against Ukraine and called for continued support for Ukraine for as long as necessary.
In view of the Vilnius Summit in July 2023, the discussions also focused on the severely deteriorated security environment and the consequent strengthening of NATO's posture, especially on its eastern flank, and the qualitative and quantitative level of ambition concerning the development of the armed forces.
"We are in full agreement that we must increase investments in our common defence," announced Minister Bausch.
"Luxembourg Defence will continue to fulfil its obligations as an ally and will continue to be ready to engage in projects of common interest, for the benefit of our alliance", said Minister Bausch, adding: "Since 2014, Luxembourg has more than doubled its defence effort and we are committed to doubling it again until 2028." According to the Directorate of Defence, Luxembourg is not only meeting the targets set by NATO, but it invests and will continue to invest in capabilities that go beyond NATO's capability requirements.
Secretary General Stoltenberg and Defence Minister Bausch also discussed the importance of the emerging fields of cyber technology and space for Euro-Atlantic security. For example, Luxembourg recently announced the acquisition of the Luxembourg Cyber Defence Cloud for €250 million, which it will make available to its allies and NATO. In the field of space defence, Luxembourg will soon launch its own earth observation satellite, LUXEOSys, and has recently launched a partnership with the United States, via the NATO Support and Procurement Agency, which foresees a Luxembourg investment of €195 million in satellite communication capacities in medium earth orbit.
With regard to the NATO Strategic Space Situational Awareness System (3SAS) and Alliance Persistent Surveillance from Space (APSS), according to the Directorate of Defence, Luxembourg's voluntary contributions were instrumental in the launch.
In the air domain, discussions focused on the multinational Multi-Role Tanker Transport (MRTT) unit, of which Luxembourg is a founding country. Luxembourg's investments in this unit go beyond NATO's initial requests, noted the defence directorate. This multinational unit will celebrate its "initial operational capability" on Thursday 23 March 2023.
"Luxembourg does not hesitate to invest in programmes that have added value for the alliance as a whole," explained Minister Bausch. "However, the relationship between investments directly benefiting Luxembourg's armed forces and investments mainly benefiting Luxembourg's allies must be kept in realistic proportions."
The NATO Secretary General appreciated Luxembourg's commitment to the alliance's Eastern flank, where the army has been engaged since 2017 in the enhanced forward presence (eFP), currently with six troops, and recently with 27 soldiers in the framework of the enhanced vigilance activities (eVA) in Cincu, Romania.
"Luxembourg is a steadfast and reliable ally that embodies the fundamental principles of unity and solidarity of the alliance," concluded Minister Bausch.
Moreover, both Minister Bausch and Secretary General Stoltenberg recognised that China represents a major challenge to the security of the allies as well as to the international rules-based system. One of the lessons to be learned from Russia's war on Ukraine was not to become too dependent on any one country.
Finally, Minister Bausch and Secretary General Stoltenberg discussed the implications of environmental change and stressed the importance of investing in common efforts towards the decarbonisation of the military sector. Secretary General Stoltenberg welcomed Luxembourg's role in advancing this issue at NATO level.