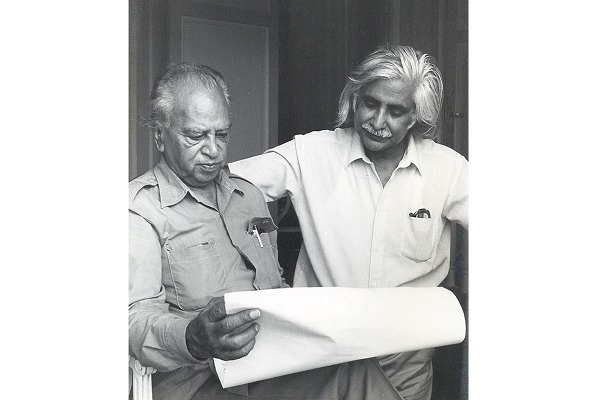 (Right) Amar Nath Sehgal; Credit: Amar Nath Sehgal Private Collection
Two acclaimed artworks of the late artist and humanist Amar Nath Sehgal, a long-time Luxembourg resident who created the iconic Gandhi statue in Luxembourg City, recently went on display at the Partition Museum in Amritsar, Punjab, India.
Born on 5 February 1922 in what was then Campbellpur (now Attock) in the north of Punjab (now in Pakistan), Amar Nath Sehgal studied engineering before pursuing his true passion: the arts. He initially moved between India and the United States (US), where he studied art education, before setting up a studio in Luxembourg in the early 1980s, then living between the Grand Duchy and India until the early 2000s when he returned permanently to New Delhi. He passed away on 28 December 2007 at the age of 85; the following year, he was awarded the Padma Bhushan (the third-highest civilian award in India) posthumously.
Amar Nath Sehgal's experience of the Partition of India in 1947 had a profound impact on him and his artworks. Many of his works depict and/or are inspired by the human condition linked to social, political and/or religious events such as Partition and the Apartheid regime in South Africa, among others. Indeed, he and his family were among those who had to flee from their home in light of Partition and he experienced its horrors firsthand. Works such as the bronze sculpture "Anguished Cries" and the painting "Untitled" (now on display at the Partition Museum) are just two examples which draw inspiration from human conflict and suffering, both depicting screaming faces and collective anguish.
Luxembourg connection
The Indian sculptor's strong ties to Luxembourg date to 1966 when he had his first solo exhibition at the National Museum of History and Art (Musée National d'Histoire et d'Art – MNHA) in Luxembourg City. In 1973, his bronze bust sculpture of Mahatma Gandhi, commissioned by a local philanthropist, was inaugurated in the Municipal Park in Luxembourg City; after the original bust was stolen in 1980, Amar Nath Sehgal gifted a copy of the original which was inaugurated on 2 October 1982, on the occasion of the 113th anniversary of the birth of Mahatma Gandhi. The current copy was also chosen for the special stamp issued by POST Luxembourg to mark the 150th anniversary of Gandhi's birth in 2019. In the early 1980s, Amar Nath Sehgal made Luxembourg his European base and in 1986, he set up a charitable fund in his adopted home called "The Creative Fund", the goal of which was to provide scolarships to deserving young artists from the Grand Duchy and India to travel to the other country and and experience its art culture.
Speaking to Chronicle.lu, Amar Nath Sehgal's son Raman Sehgal, who has been living in Luxembourg for many years, shared that his father was well-connected and liked in the Grand Duchy, particularly among figures of a certain political and cultural standing at that time, having built a large network of friends and acquaintances here over the years, and he had a strong emotional connection to the place. He had originally sought a European base due to the limited market for abstract sculptures in 1960s India. As Raman recalled fondly, his father was a "very simple sort of man who became part and parcel of the local Luxembourg society as it was then". He continued to exhibit his works across Europe, particularly in Luxembourg and Switzerland, and in the US until the late 1990s when he was diagnosed with Parkinson's disease, a condition that obliged him to limit his travels; he thus made the decision to remain in New Delhi.
After his death in 2007, Amar Nath Sehgal's studio in New Delhi was converted into a museum: the Amar Nath Sehgal Private Collection. Luxembourg's Minister of Foreign and European Affairs, Jean Asselborn, has visited the museum a couple of times during his official visits to India. This year, the Collection released a coffee table book called 100 Years of Sehgal to mark the centenary of Amar Nath Sehgal's birth. The book is not currently for sale but a limited number of copies have been made available to the late artist's close contacts.
Partition Museum artworks
Among Amar Nath Sehgal's best-known works is "The Cricketer", a sculpture which became a symbol of goodwill between India and Pakistan when the former's then Prime Minister Jawaharlal Nehru gifted it to the latter's cricket team during their India tour in 1961; the artwork will now be displayed at the new Partition Museum in Delhi (an extension of the Amritsar one). Two other acclaimed works by Amar Nath Sehgal - a smaller version of his bronze sculpture "Anguished Cries" and the painting "Untitled" - went on display at the Partition Museum in Amritsar earlier this month, as part of celebrations of the centenary of the artist's birth and 75 years of Indian independence. "Anguished Cries" and "Untitled", like many of his works depict the violence and suffering linked to the Partition of India (and similar events). Various other works by the artist remain on display in public and private collections around the world.
Legacy
As Raman explained, he and his brother Rajan Sehgal are now trying to keep their father's legacy alive and to bring his works to a new generation. Their objective with the Amar Nath Sehgal Private Collection is to "do our best to propagate his work and ideas the best we can". He noted that the Collection has no commercial objectives but rather aims to present the huge body of works that their father has left behind. There is a small team behind the Collection, mainly family members but also a couple of curators; Raman and Rajan created the archives on the official website, for example: https://www.amarnathsehgal.com/.