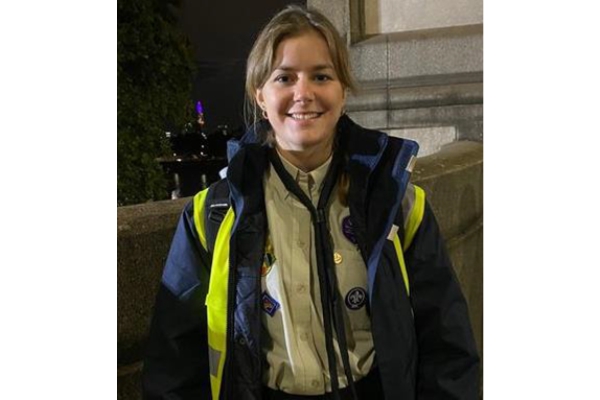 Zoë Baxter, Assistant Scout Leader with Telstar; Credit: Telstar
Zoë Baxter, member of Telstar International Scout Group, a English-speaking scout group in Luxembourg and part of British Scouting Overseas (BSO), has volunteered during the Her Majesty Queen Elizabeth's lying-in-state in London.
Shortly after the death of British Scouting's patron, Queen Elizabeth II, the Scout Association put out a call for volunteers aged 18 to 25 to assist with managing the lying-in-state in Westminster Hall in London. More than 500 members applied, including four from BSO. Zoë Baxter from Luxembourg, a BSO Scout Network member, was successful in the selection and flew to London to volunteer with managing the massive queue of people.
Ms Baxter, who received her Queen's Scout Award in 2020, joined as a Beaver Scout at the age of seven and has been involved in Scouting ever since. She is one of the Assistant Unit Leaders in the joint BSO / British Girlguiding Overseas World Scout Jamboree Unit. Ms Baxter is also currently volunteering as an Assistant Scout Leader with Telstar.