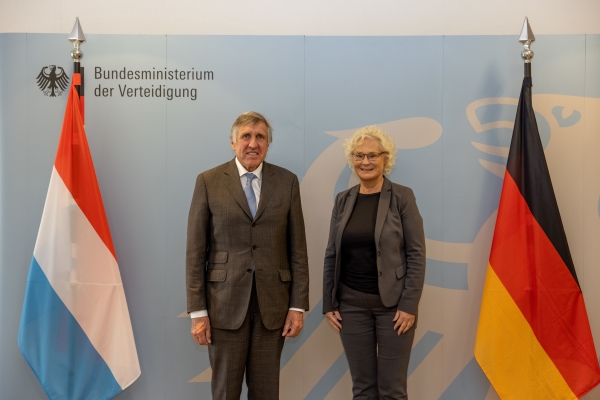 (L-R) François Bausch, Deputy Prime Minister and Minister of Defence; Christine Lambrecht; Federal Minister of Defence; Credit: Bundeswehr / Tom Twardy
On Wednesday 21 September 2022, Luxembourg's Deputy Prime Minister and Minister of Defence, François Bausch, was on a working visit to Berlin to visit his German counterpart, Federal Minister of Defence, Christine Lambrecht.
The main topic of conversation was the Russian war of aggression and recent developments in Ukraine. Minister Bausch warned that the international community must uphold its current support for Ukraine in order to maintain the momentum of the Ukrainian counter-offensive. "Luxembourg is continuing its significant military support efforts. We are definitely ready to support Ukraine for a longer period of time", Minister Bausch assured his counterpart. Both ministers agreed that the support of Ukraine by European Union (EU) Member States and the allies is of crucial importance for the further course of the war. With regard to a possible EUMAM Ukraine (EU Military Assistance Mission for Ukraine), both ministers supported this project, but emphasised that this training mission must be as efficient and uncomplicated as possible.
The two ministers also exchanged views on the security situation in the Sahel zone. Germany and Luxembourg are currently militarily represented in Mali. Minister Bausch explained the reasons that led Luxembourg to withdraw from the EUTM Mali from 31 December 2022. Minister Bausch commented: "However, I have also emphasised several times that the EU and Luxembourg should remain engaged in the Sahel." Both ministers also discussed the UN peacekeeping mission MINUSMA and the importance for the protection of the civilian population. Minister Bausch thanked Christine Lambrecht for the deployment of the Bundeswehr as part of this mission, where Luxembourg is currently represented by two soldiers for satellite communications.
In the field of space defence, both ministers praised the good cooperation to date, which is to be intensified in the future. In this regard, Minister Bausch pointed out that Luxembourg will put its own earth observation satellite into orbit in 2023 and that its images will also be available to Germany, among others.
Finally, the ministers discussed the topic of Lethal Autonomous Weapon Systems (LAWS). Luxembourg is involved in this area at national and international level in order to set up uniform, ethics based rules and guidelines. Both ministers agreed to work together in this area in the future.