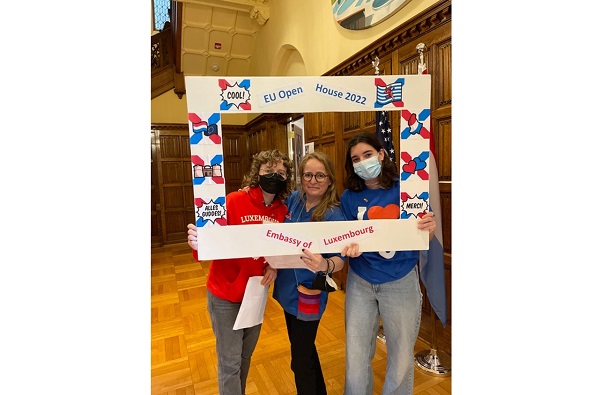 Ambassador Nicole Bintner-Bakshian with assistants at the recent EU Open House; Credit: C Naseer Ahmad
Her Excellency Nicole Bintner-Bakshian, Ambassador of the Grand Duchy of Luxembourg in Washington DC (US), hosted a European Union (EU) Open House at the Luxembourg Embassy in Washington, DC on Saturday 14 May 2022.
Ambassador Bintner-Bakshian stood out on Q Street engaging the visitors personally. Social Secretary Elisabeth Herndler and the entire Embassy staff, many of whom were busy preparing and distributing finger food, also made the visitors feel welcome.
On this special day, the Embassy took on the appearance of a museum, with the artifacts arranged artistically to encourage visitors to stay.
Embassy staff wore masks as did most visitors, to minimise health risks. Excellent air flow throughout the building and controlling the number of people inside the building simultaneously were the hallmarks of professional efficiency. There was infectious enthusiasm among the staff to inform the visitors about Luxembourg.
The EU Open House is an annual event organised by Cultural Tourism DC, a non-profit organisation "with a mission to deliver memorable experiences and learning opportunities in the areas of heritage, international exchange, and humanities. Working in partnership with local government, business, and tourism agencies, the organisation envisions Washington, DC as a city rich with diverse culture and heritage that generates civic pride and economic prosperity in neighbourhoods. Cultural Tourism DC is a coalition of culture, heritage, and community organisations".
The EU Open House is an initiative by the EU Delegation + 27 EU member states making this annual event a special travel experience for which visitors do not need to purchase any aeroplane tickets.