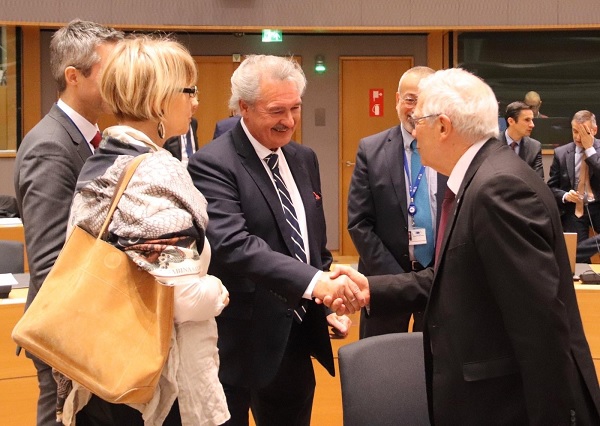 (L-R): Minister Jean Asselborn; EU High Representative, Josep Borrell Fontelles; Credit: MAEE
On Friday 10 January 2020, Luxembourg's Minister for Foreign and European Affairs, Jean Asselborn, participated in the extraordinary meeting of the Foreign Affairs Council (CAE) of the European Union (EU) in Brussels: the meeting had been convened by the High Representative of the Union for Foreign Affairs and Security Policy and Vice-President of the European Commission, Josep Borrell Fontelles.
The meeting allowed ministers to review pressing issues on the international agenda, most notably the situation in Libya, in the presence of the Special Representative of the United Nations Secretary-General for Libya, Ghassan Salamé. During his speech, Minister Asselborn thanked Ghassan Salamé for his tireless mediation efforts and recalled that a lasting political solution in Libya will "not be possible without the participation of the United Nations".
The Council then had a detailed exchange of views on recent developments in Iraq and Iran. Ministers recognised the need to continue and strengthen the European Union's efforts to de-escalate. They entrusted Josep Borrell Fontelles with the mandate to carry out consultations to this end with the actors concerned, particularly in the region.
Minister Asselborn expressed concern over recent developments in Iraq. He stressed that the sovereignty and independence of Iraq are essential factors for ensuring the stability of the region, and that "our support for Iraq to stabilise and rebuild the territories liberated from Daesh must continue." Like NATO Secretary General Jens Stoltenberg, who participated in this part of the meeting, Jean Asselborn insisted on the need to continue the Atlantic Security Forces training mission implemented by the Atlantic Alliance and the struggle of the world coalition against Daesh.
The Luxembourg diplomat noted "the importance of preserving the Vienna agreement on Iranian nuclear power, which remains crucial for global security". He regretted the announcement made by Iran on 5 January that it would no longer wish to comply with the limits imposed by the agreement with regard to the number of centrifuges installed and, thus implicitly that it would no longer comply with the restrictions imposed by the nuclear deal.
"The European commitment to the nuclear agreement obviously depends on the Iranian authorities' full respect for this agreement," said Jean Asselborn. He reiterated that the European Union is committed to this agreement, which allows for oversight of Iran's activities by the International Atomic Energy Agency.
To conclude, Minister Asselborn expressed himself in favour of the establishment of a regional security mechanism that would allow regular dialogue between the actors concerned in order to create a climate of mutual trust and thus prevent the emergence of new tensions in the future.