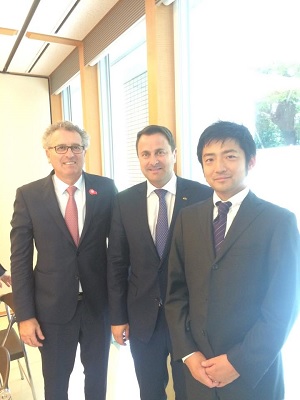 Prime Minister, Minister of State Xavier Bettel was received with military honours by Prime Minister Shinzo Abe during his official visit to Japan from 15 to 19 July 2015.
The meeting between the two Prime Ministers took place at Prime Minister Abe's official residence in Tokyo, where discussion focused on the bilateral ties between the EU and Japan as well as the priorities of the Luxembourg Presidency of the Council of the European Union.
In his capacity as Minister of Communications and Media, Xavier Bettel also met Shunichi Yamaguchi, Minister in charge of Information Technology Policy, to discuss the digital strategies of both countries.
Finance Minister Pierre Gramegna has met with Akira Amari, Minister of State for Economic and Fiscal Policy for an exchange of views on current economic and financial happenings. He also met Haruhiko Kuroda, Governor of the Central Bank of Japan.
Xavier Bettel and Pierre Gramegna also met with senior officials of the economic and financial world, due to their attendance at a seminar bringing together a hundred participants to discuess the advantages of Luxembourg as a European ICT platform.
The Prime Minister and the Minister of Finance engaged in discussions with many business executives from the technology sector and Fintech, including the CEO of bitFlyer, which is a company specialising in virtual currencies. bitFlyer CEO Yuzo Kano reportedly expressed his willingness to install bitFlyer European headquarters in Luxembourg.
Xavier Bettel commented: "This visit confirms the excellent relations between our two countries. Luxembourg is recognised as a reliable partner and a choice centre for the establishment of Japanese companies in conquering the European market."
Top photo by Ministry of State (L-R: Pierre Gramegna, Minister of Finance; Xavier Bettel, Minister of Communication and Media; Yuzo Kano, Co-Founder and CEO of bitFlyer)

Bottom photo by MInistry of Finance (L-R: Haruhiko Kuroda, Governor of the Central bank of Japan; Pierre Gramegna, Minister of Finance)