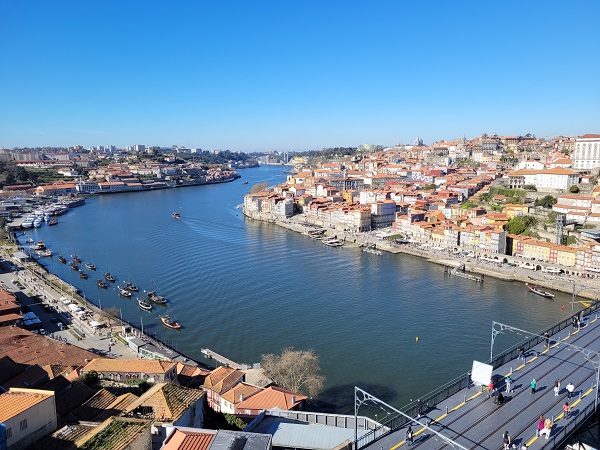 Credit: Jazmin Campbell
The sun is finally starting to make an appearance in Luxembourg this year, although current spring temperatures are still lower than some of us might like. Earlier this year, when it was still officially winter, I escaped the cold weather on a long weekend getaway to Porto. Although I must confess, this fresh April weather has me tempted to go back for some vitamin D (and vitamin sea…).
This charming coastal city in northwest Portugal is about a two and a half hour-flight away from Luxembourg (with a choice of airlines) and is understandably a popular tourist destination for residents of the Grand Duchy. Indeed, Portugal as a whole is a popular spot and not only for Luxembourg's significant Portuguese population (STATEC: 93,678 as of 1 January 2022), who are able to travel back and forth with ease, but for the rest of us too; cities such as Porto and Lisbon are easily accessible thanks to frequent and quite affordable flights and the country's culture and food, its coastal cities and temperate climate, its impressive architecture... are just some of the characteristics that draw us in.
During my stay in Portugal this February, I was treated to 18 °C, blue skies and sunshine, with a light breeze, and so, naturally, I was wearing shorts and a T-shirt. The locals, however, were still dressed in their fur coats and ski boots, and could easily spot the tourist! The evenings were admittedly a bit chillier but always lively, with music performances on almost every street and people outside on terraces enjoying food and drinks.
Getting around was easy (on foot or by public transport) although the city is very hilly so a sturdy pair of walking shoes is essential. Language was not an issue either, with most people in shops and cafes speaking English (and several other languages) very well. I did attempt a couple of phrases in Portuguese myself but was often mistaken for a Spanish tourist thanks to my (mis)pronunciation!
Tips & Highlights
Travelling to a gem like Porto during the off-peak season meant (slightly) fewer crowds for top tourist attractions like the Livraria Lello, a beautiful but busy-year-round bookstore made famous for its alleged links to the Harry Potter book series. Top tip: book your ticket in advance for an early-morning slot (just after opening time) or for a late-evening slot (just before closing time), preferably in the quieter months, to avoid it being too crowded.
A journey on board the historic tram is a must, although I would suggest skipping the hop-on, hop-off sightseeing bus tours (or at least checking out the different companies' reviews before booking) as there was a lot of waiting around not knowing when the next one would show up... In any case, most of the main sights are accessible by foot.
Some of the top sights include: the charming Ribeira Square (old city district), which is situated along the bank of the Douro River and is a designated UNESCO World Heritage site; the Port wine cellars, which can be explored as part of a guided tour followed by a Port tasting; the historical Porto Cathedral and its cloister; São Bento railway station and its some 20,000 magnificent azulejo ceramic tiles; the Luís I Bridge for breathtaking views over the Douro River- the impressive double-deck metal arch bridge links picturesque Porto and the nearby Vila Nova de Gaia, which is also worth a visit; Gaia's Monastery of Serra do Pilar and its spectacular hilltop views of both cities; the Church of São Francisco, a fine example of Gothic architecture, also known as the "Gold Church" (unfortunately some parts of the church were inaccessible during my recent visit due to restoration works); Clérigos Church, an 18th-century Baroque church, and its impressively tall bell tower; the idyllic Crystal Palace Gardens, with its beautiful fountains, greenery and wildlife- I encountered some cautious chickens and proud peacocks during my visit.
One relaxing way to get a scenic overview of both Porto and neighbouring Gaia (after what has surely been a long day of walking) is to hop on the Gaia cable cars to go up or down the hilltop and then take the Porto funicular for the return journey (or vice versa).
Also worth a visit, in my opinion, for adults and children alike, is World of Discoveries, an interactive museum recreating the journeys of Portugues navigators- although a darker, more controversial subject matter (linked to the colonial gaze) certainly bubbles beneath the polished surface and deserves further reflection.
Concerning food options, Porto offers a mix of tourist spots, which are still quite affordable compared to Luxembourg standards, and more traditional, off-the-beaten-track family-run tascas (some are quite hidden up charming, narrow alleyways but are worth the search). Typical dishes include, of course, fish (Bacalhau, or cod, comes to mind) and seafood, Francesinha (a carbohydrate-rich cheesy, meaty sandwich- although vegan versions are available too!), Bifana (pork steak sandwich) and Caldo Verde (a type of soup), as well as the ultimate sweet treat: Pastel de nata (again, tasty vegan options can be found).
There is certainly a lot to see and do in Porto for one weekend, or in my case a long weekend (Friday to Monday), and even when you think you've seen everything, this charming city has a way of luring you back for more. Personally, I first visited Porto almost ten years ago, but I can't imagine waiting so long to return this time around.