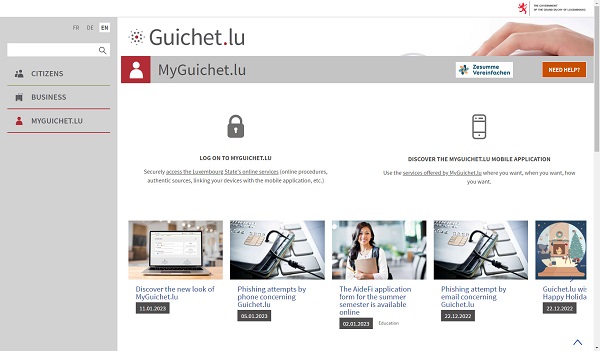 Many of us have tales of woe to tell when it comes to our dealings with authority, be it our local municipality or central government departments. We also need to get to grips with modern technology and modern means of communication.
More and more, we are moving from a physical forms and letters world to just an online forms world. The technology exists for us to go online, virtually visit a government department and complete a procedure. No need to leave your living room. Just the frustration of gathering all the information that you've put away knowing that you'll need it one day.
The technology that I am referring to is called MyGuichet, and you have probably spent some time there. In my own view, it is an excellent facility to communicate with government as needs be. From completing your tax returns to checking your COVID status, although if have COVID you probably checked using a test kit. Moreover, MyGuichet has a new look for 2023.
To access MyGuichet, you need to type "myguichet.lu" into the address bar of your browser on your computer. This opens a screen that has a modern look and feel to it, with a menu bar on the left that has a search box and three choices. A little digression here, the page should have opened in the language of your browser but if it has not then you change the language using the options on the top of the menu bar.
The main area of the page has all the information that you need to be able to log in to the application. On the left of the window, it clearly shows "Log on to MyGuichet.lu" and this is a link for you to click. Clicking this link opens a page where you have three choices for your secure access to MyGuichet: LuxTrust; GouvID; eIDAS.
LuxTrust is something that many of you may be familiar with as it has been around for a while now. You may have a token, a signing stick or a card, or you may use the mobile app on your phone. All of these are a form of two-factor authentication.
GouvID and eIDAS are relatively new and depend on your form of identification and if that is capable of electronic use. It is not my intention to describe the logging on process, suffice to say that you probably know which to use.
So, what is the point of MyGuichet? From where I sit, it is to simplify the routine requests that you make of government departments. When you access your private space, you can check your personal data held by the government, track the status of any procedure that you have started, check messages that have been sent to you and store documents relevant to your dealings with the government. You can also check and update your profile and so speed up the completion of forms, such as your tax return.
In all, and at the time of writing, there are 113 procedures that you can complete on MyGuichet, everything from completing your tax return and car registration to applying for a fishing licence. They are divided into sections that are neatly displayed at the top of the page after you have selected to begin a new procedure. The sections that are probably of most use, after taxation, are employment, family, housing and transport.
Almost any procedure that you need to do with the government can be found in MyGuichet and they are being added to all the time as the individual departments make them available online. However, there are notable exceptions such as eSanté and SNCT, which have their own portals.
Checking the data that the government hold on you could not be easier as it is the area called "My Data" and then categorised consistently with the procedures. You can check such things as your residency, car registration, driving licence and when it expires, your family situation, and so on. One of the services that you can activate is to have documents delivered to you electronically instead of on paper by post. In my experience, whilst this is useful, I need to action electronic documents immediately or they get forgotten, and the government does not send reminders.
Government departments will send you messages and, again at the time of writing, these usually come by post, although you can opt to receive them only by email or SMS. All of these messages are available to consult in MyGuichet. There is a search feature and so if you have many messages, you can filter them so that they are easier to see.
My overall impression of MyGuichet is that it has transformed from the necessary evil that it was some years ago into something that not only makes life easier but is also a pleasure to use.