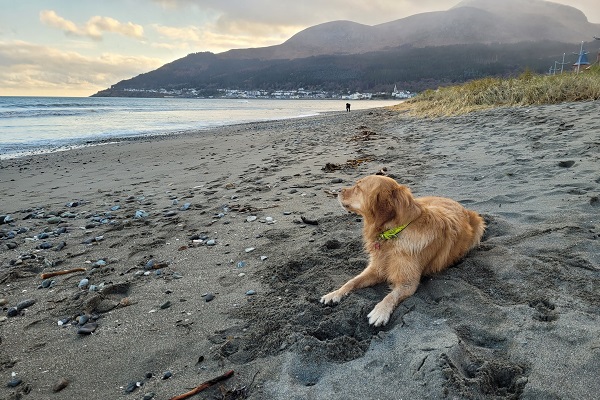 Elfi the Golden Retriever enjoying Boxing Day on Newcastle Beach in Northern Ireland; Credit: Jazmin Campbell
Like many people, I enjoyed travelling before the COVID-19 pandemic (and now again that restrictions have eased in most places). Also like many people, I decided that lockdown was a good time to finally get a pet with my partner – or two in this case, a cat and a dog. I had been teleworking since even before COVID-19, but for much of 2020 and 2021, my partner was working from home as well, so we had more time to dedicate to the very intense but marvelous kitten and puppy stages of our pets' lives.
When lockdown ended and travel restrictions eased, we wanted to travel again, without leaving our pets behind. On the one hand, our cat is not much of an adventurer, so we are lucky to have family and friends in Luxembourg who look after her in our (generally short and rare) absence. Our dog, on the other hand, travels with us to most places. Thankfully, travelling with your pet within the European Union (EU) is quite straightforward. According to EU rules, you can travel with your dog, cat or even ferret to another EU country, as well as Norway and Northern Ireland, provided the animal has a valid European pet passport, has been micro-chipped, vaccinated against rabies and had tapeworm treatment (where applicable) within a specified timeframe. Additional rules apply when travelling with more than five pets.
Travelling by car with our dog has always been relatively easy – she is not too enthusiastic about getting in the car but is calm throughout the journey (and is always so excited when we reach our destination!), and there is little to no paperwork that needs to be done. And since we would never subject her to the stress of flying for short trips and distances, and there is a rather large body of water separating mainland Europe from the island of my birth (Ireland), the only option in this case was boat – or underwater rail thanks to the very practical Eurotunnel shuttle between Coquelles (near Calais, in France) and Folkestone (near Dover, in England).
We have now taken Elfi, our Golden Retriever, to visit my family in Northern Ireland three times: the first time in summer 2021, then again in April 2022 and most recently over Christmas. Each time, we would depart Luxembourg in the morning, fuelled with energy drinks and the desire to get going, driving through Belgium to get to the Eurotunnel terminal in France. The first leg stretches over 430 km and takes about five hours (including a toilet/rest break for both the humans and dog on board).
Travelling with the Eurotunnel shuttle has been really great in my experience. Passengers should arrive one to two hours prior to their booked departure time (although they are quite flexible with the times) and those of us travelling with pets have to visit the Pet Reception before departure; here, the staff check your pet's passport and ask you to scan their microchip. Then, provided there are no delays, it's all smooth sailing (or underwater railing) from there: you wait to board in the comfort of your own car, and can use one of the restrooms located in the boarding area or take your dog out for a quick walk whilst waiting, and once on the train, you turn off your engine, wind the windows down a bit, sit back and relax until you reach your destination half an hour later.
Upon arrival in England, depending on how quickly we need/want to get to Northern Ireland, we typically drive for six or seven more hours (with regular breaks and alternating driving shifts), staying in accommodation near our ferry departure (normally Holyhead in Wales or Cairnryan in Scotland) for one night and then continuing our journey towards the Emerald Isle. Other times, we will stay somewhere in Great Britain for a few nights before continuing on to our final destination. Last April, for example, we stayed in Crewkerne in Somerset, which has to be one of the most dog-friendly places I have ever been! Elfi was welcome at every pub and restaurant, and also at several shops across the county. There is an increasing number of pet-friendly hotels and other accommodation to choose from across the UK as well. Another option is driving non-stop from Luxembourg to Northern Ireland and/or vice versa via land and sea, but this is a very long and tiring journey (approximately sixteen hours depending on how many rest stops you make, etc.) so I would not recommend this.
Our ferry of choice in the past was Irish Ferries' Dublin Swift (quickest option) from Holyhead to Dublin (and vice versa) but this one does not seem to operate in the winter months, so last Christmas, we opted for StenaLine's similarly fast Stena Superfast VII(I) between Cairnryan and Belfast – this meant the journey across mainland Britain was longer, since we had to reach Scotland rather than Wales, but we later saved time on the drive from the ferry destination to my family's home (arriving in Belfast rather than Dublin). This way was also easier in terms of border controls since we were travelling within the United Kingdom (UK), rather than from mainland Britain to Ireland (EU). I actually believe that Northern Ireland has the best of both worlds in terms of post-Brexit pet travel: under the (controversial) NI Protocol, Northern Ireland remains part of the EU Pet Travel Scheme, making it easy to travel between Northern Ireland and the EU (including Ireland, although we were only ever subjected to pet-related checks when travelling by ferry between Great Britain and Dublin, not when driving between the Republic of Ireland and Northern Ireland); whilst there are supposed to be additional requirements for pets travelling between Northern Ireland (EU Pet Travel Scheme) and Great Britain (third country), we had to show neither our passports nor Elfi's documentation when travelling between Cairnryan and Belfast – although you should still have these at hand, just in case.
For the most part, pets have to stay either in your vehicle or in pre-booked kennels on the vehicle deck on the ferry; StenaLine allows small pets on board but they have to stay in their pet carrier for the duration of the crossing. We quickly learned that our dog is not a fan of the kennels, and for good reason: these were cold, metallic boxes located at the noisiest part of the ship, in our experience. So, we left her in her car crate, with the windows wound down enough to allow air in, and were able to check on her (accompanied by a member of the ferry staff) halfway through the two- to three-hour journey.
Overall, in my experience, travelling with your pet to/from the UK after Brexit is not as complicated as it might seem. Particularly for trips to England (or elsewhere in mainland Britain), you can get there easily and quite quickly from France thanks to the Eurotunnel shuttle. There are ferry options too, but the journey is longer.
Useful links regarding pet travel rules