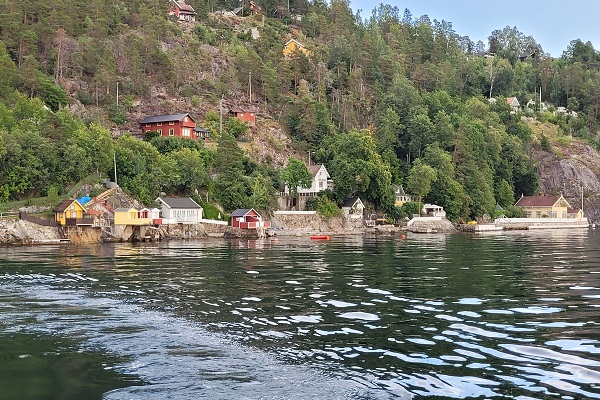 Oslo Fjord; Credit: Jazmin Campbell / Chronicle.lu
It is not often that I holiday in a country colder than Luxembourg (or my native Northern Ireland), but a five-day trip to Norway at the end of August was a welcome escape from the unusually hot Luxembourgish summer (the second hottest on record) this year.
A friend and I took a direct flight with Luxair from Luxembourg Airport to Oslo Gardermoen Airport and back, departing on a Monday morning and returning on a Friday evening. Unlike the recent experiences of other travellers passing through Luxembourg Airport (and several other European airports), we quickly dropped off our luggage and sailed through security. After a relaxing browse in the duty-free area, we enjoyed a comfortable two-and-a-half-hour flight. Admittedly, we made sure to arrive at the airport at least two hours in advance, as is recommended. The return experience ran similarly smoothly, although the flight was much fuller this time around.
Upon arrival in the Norwegian capital, I did not really know what to expect. I had seen pictures online of some nice buildings and the harbour and I had an idea of what I might like to see and do, but the most fun part of this trip was being able to simply explore at my own pace, without the weight of expectations that can follow travellers to more famous cities like Paris, London or New York. Before the trip, I had actually read reviews saying that Oslo was not the prettiest city, that it was too expensive, that it lacked tourist attractions. Such statements only fuelled my desire to go there and experience the city for myself – and I am glad I did just that, because the Oslo I discovered was charming, forward-thinking and unashamedly cool. Credit cards were accepted everywhere and even favoured over cash – I could not help but compare this to a recent trip to Berlin (another very cool European capital) where hardly anywhere accepted card. Free tap water was a given (unlike in Luxembourg) and there were so many cafes and restaurants catering to specific dietary requirements and preferences. For dining out, I recommend (an early) dinner at Lekter'N, the city's largest open-air restaurant (only open in summer) overlooking the harbour and serving various barbecue and seafood dishes. For a less extravagant but equally tasty meal, check out Barcode Streetfood – a slightly less touristic and more charming and varied (in my opinion) alternative to the popular Oslo Street Food.
The downside was that restaurant kitchens close very early; it was almost impossible to find anywhere that served dinner after 20:00 (with many Norwegians eating much earlier than that). However, once we found this out during our first evening in Oslo, my friend and I just planned our eating schedules around that. And yes, food was expensive, but coming from Luxembourg (and already knowing that Norway is a comparatively expensive country), there was honestly not a huge difference in prices. And what better time to splash out than when on holiday! Accommodation was also quite expensive but we managed to find a mid-range hotel in the city centre for the equivalent of just over €150 per night (for a double room), breakfast included.
Highlights
As touched upon above, I just really enjoyed walking around the city centre and exploring Oslo's many beautiful buildings, parks and gardens. Most sights were accessible on foot, although my friend and I did take a bus back to the city centre from the Norwegian Museum of Cultural History (Norsk Folkemuseum) which was a bit more out of the way. Whilst the Royal Palace was closed to the public during our visit (it opens every year between late June and mid August), we were able to check out the gardens which are open 24/7. However, there are much nicer gardens in Oslo, in my opinion, and a personal favourite was the Botanical Garden, which is part of the University of Oslo's Natural History Museum, with its diverse range of plants and exhibitions. Oslo is also home to the Nobel Peace Center, which schowcases the Nobel Peace Prize and its ideals – we did not go inside on this occasion but admired the harbourside building from afar.
Some of my personal Oslo highlights (apart from a strong cashless and free tap water culture) were:
- A visit to the Norwegian Museum of Cultural History (Norsk Folkemuseum). I was initially disappointed that the Viking Ship Museum (the existence of which I admittedly only discovered after booking my flight to Oslo) was closed for renovations and decided to visit the Norsk Folkemuseum instead. The visit did not disappoint: the museum is home to an impressive open-air museum with 160 historic buildings and various indoor exhibitions on Norwegian folk culture and traditions. The main attraction is the reconstructed 12th- to 13th-century Gol Stave Church, a striking example of a medieval wooden Christian church.
- Dolphin sighting during a fjord sightseeing cruise was an incredible experience. Sure, the Oslo Fjord is perhaps not the most impressive fjord in Norway but it was still beautiful. An impromptu dolphin appearance was an added bonus! We were lucky enough to be seated at the stern of the boat and could really take in those panoramic views.
- Despite not wanting to spend all my time in museums, I found myself admiring the works of the 19th- to 20th-century Norwegian painter Edvard Munch at the MUNCH museum. The museum is notably home to the iconic artwork "The Scream". In fact, it houses three original versions of the composition: a painting, a drawing and a print version, which are rotated every hour so that a different one is on display while the other two rest in darkness. I found the experience to be as anti-climactic as seeing the "Mona Lisa" in person at the Louvre in Paris but when in Oslo… I did enjoy browsing and admiring several of Munch's other, lesser-known works, however, and the museum's upper floors offer some breathtaking views over the Norwegian capital. Not far from the museum, you can admire similar views (for free) from atop the roof of Oslo Opera House – the perfect spot to watch the sunset.
- Akershus Castle and Fortress was another highlight. Visitors can enter the grounds and admire views over the harbour for free, although entry to the mediaeval castle itself costs about €10 (100 NOK). We decided to explore inside (think dungeons, state rooms and a chapel) with the help of an informative audio guide. For those who enjoy history, a visit to the castle, which originally served as a military stronghold and a royal residence for King Haakon V, is a must.
- Taking a seven-hour scenic train ride to Bergen (and then sleeping in bunk beds in a tiny but surprisingly comfortable sleeper compartment on the overnight train back to Oslo). We travelled along the Bergen Railway (Bergensbanen), taking in some of Norway's spectacular scenery while crossing Northern Europe's largest mountain plateau and national park: Hardangervidda. Unfortunately, we did not have time to take the Flåm Railway (Flåmsbana), which apparently offers even more impressive views, although we saw quite a few tourists get off at Myrdal to catch the train to Flåm. We had just ten hours to explore Bergen but managed to see everything we wanted to in this charmingly colourful coastal city: we strolled through its picturesque parks, took the Fløibanen Funicular up Fløyen Mountain and enjoyed panoramic views, ate some traditional Norwegian dishes (meatballs, Lapskaus, i.e. stew, etc.) and tried Norwegian cider in one of Bergen's many student-friendly pubs. Tip: to avoid disappointment, book your Bergensbanen tickets directly from the Norwegian rail operator's official website: vy.no.
I must say we got really lucky with the weather in Norway: temperatures reached just over 20°C but it was sunny and there was just one evening where it got a bit chilly while we were dining next to the harbour in Oslo. We also somehow managed to avoid any rain, even during our day trip to Bergen, where it rained every other day that week… Nevertheless, we had come prepared with an umbrella and rain jackets!
Oslo is a city that you can definitely visit for a weekend and it makes a great base to explore other parts of the country. Nevertheless, I felt that there was always something new to see or do, so whether you decide to visit for just a day or two or for a week, I doubt you will be bored.