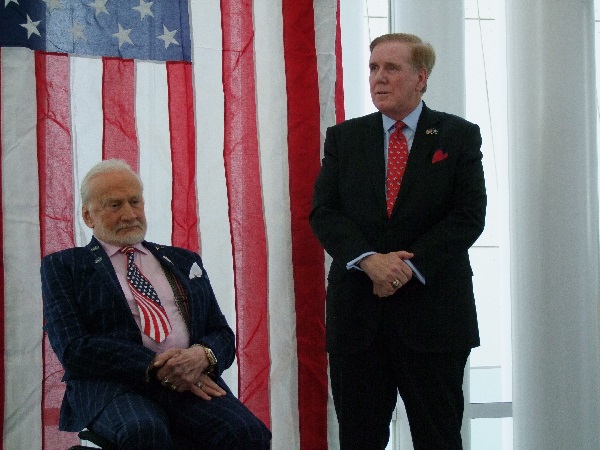 Buzz Aldrin during US Independence Day celebrations in Luxembourg; Credit: Jazmin Campbell
The start of a new year, and indeed a new decade, seems like a good opportunity to reflect on both what has happened over the past year(s) and what lies ahead. For Luxembourg, 2019 could be summed up as a period of progress and investment, loss as well as hope, some political controversies, anniversaries, the arrival of some very special guests and, of course, roadworks, lots and lots of roadworks. And just as a warning, this is a long article, so buckle up and prepare to relive the past year of ups and downs in Luxembourg.
The Highs…
New Legislation
2019 got off to a positive start for most employees in Luxembourg with the introduction of two additional days of annual leave. This included a new public holiday on 9 May (Europe Day) and one extra day of leave, bringing the total (minimum) number of statutory holidays to 26.
Others in Luxembourg rejoiced at the news of the (future) legalisation of recreational cannabis, with plans to adopt a Canadian-style public health approach to the matter having been announced in May 2019. Indeed, the change would make Luxembourg the first European country to legalise the production, sale and consumption of cannabis for recreational use.
Combatting Sexual Violence
Excluding the sad news of Grand Duke Jean's death (discussed below), Luxembourg's royals were also the subject of some more positive news in 2019. In addition to the news of a royal baby on the way, one highlight was the Stand Speak Rise Up initiative, launched by Grand Duchess Maria Teresa. The international conference held in March 2019 saw female survivors of sexual violence tell their inspirational and heart-breaking stories to hundreds of attendees at the European Convention Center in Luxembourg. The event also saw Dr Denis Mukwege, a renowned Congolese gynaecological surgeon, founder of the international organisation of the same name and 2018 Nobel Peace Prize winner, give a keynote speech on his foundation, which supports victims of sexual violence around the world. The success of this conference resulted in the establishment of the Stand Rise Speak Up non-profit organisation in September 2019, thus continuing the initiative's efforts in the fight against the use of sexual violence as a weapon of war.
Climate Action
Other important initiatives in 2019 included the well-attended youth climate strikes, organised throughout the year by Youth for Climate Luxembourg (YFCL) as part of a global wave of protests calling for greater climate action. The protest held on 15 March 2019 alone saw some 7,500 students and young people take to Luxembourg's streets to voice their concerns over climate change. This youth activism was met mainly with public support and resulted in talks between Youth for Climate Luxembourg delegates and Prime Minister Xavier Bettel.
For its part, the Luxembourgish Government committed itself to increasing national climate protection efforts. In December, the Cabinet passed a bill providing for a 55% reduction in greenhouse gas emissions by 2030 (compared to 2005 levels) – an increase from the initial target of 40%. Whilst certainly a step in the right direction, whether those targets are achievable or not (or even ambitious enough) remains to be seen, not least because of the strong car culture that endures in Luxembourg.
In any case, 2019 also saw several retailers in Luxembourg move towards more sustainable packaging over the past year. For their part, Cactus and Grosbusch both introduced environmentally friendly packaging initiatives in June, with the latter adopting 100% recyclable and biodegradable packaging. In addition, Lidl's zero waste initiative managed to raise money for local social supermarkets whilst contributing to its efforts to reduce food waste by 25% by the end of 2020 and by 50% by 2025.
Similarly, local activists launched an initiative calling for free tap water in eating establishments in Luxembourg. One of the main arguments in its favour was that free tap water would save customers money and reduce the use of plastic.
Special Guests & Anniversaries
2019 also saw Luxembourg host some very high-profile public figures, from Prime Ministers and European royals to history-making astronauts and US Congressional delegates.
Highlights included the high-security visit of Russian Prime Minister Dimitri Medvedev in March, the working visit of Irish Taoiseach Leo Varadkar in June and the controversial (and very short) visit of British Prime Minister Boris Johnson in September. For anyone who forgot, Mr Johnson left the press waiting for hours before cancelling his planned joint press conference (with Xavier Bettel) due to a small crowd of anti-Brexit protestors outside the Ministry of State's gates. The Belgian King and Queen (October) and Czech Prime Minister Andrej Babiš (November) were also among the VIPs hosted by Luxembourg last year.
Perhaps one of the most exciting visits of the year was that of former Apollo 11 astronaut Buzz Aldrin, one of the first human beings to have set foot on the moon. Mr Aldrin gave a speech at the US Embassy Luxembourg's traditional Independence Day reception in July. Another high-profile visitor from the US last year was Nancy Pelosi, Speaker of the United States House of Representatives, who led a Congressional delegation to Luxembourg for the 75th anniversary of the beginning of the Battle of the Bulge commemorations in December. To mark this historic anniversary, the American Military Cemetery in Luxembourg-Hamm held two commemorative events: a candle lighting and an official ceremony, the latter attended by veterans as well as political representatives from Luxembourg, the USA, Germany, Belgium, Canada, France, the Netherlands, Poland and the UK.
Construction Projects
Whilst the accelerated rate of construction and road works caused much frustration among Luxembourg residents and employees over the past year, these works did result in the development of some impressive establishments. Shoppers were treated to the opening of the new Cloche d'Or shopping centre (May), Galeries Lafayette at Royal Hamilius (November) and Infinity Shopping in Luxembourg-Kirchberg (December).
2019 also saw the inauguration of the new €25 million Brewery of Luxembourg in Diekirch in March, as well as the much anticipated opening of the new National Library site in Kirchberg in August.
Sporting Feats
Football fans also had a good year, with F91 Dudelange becoming the first Luxembourg team to qualify for the UEFA Europa League Group Stage. A promising precedent for future tournaments!
…and the Lows
Mourning
Unfortunately, it wasn't all good news in 2019. One of the most significant events for the Grand Duchy in the first half of the year was the loss of beloved statesman, Grand Duke Jean, who passed away aged 98 in April. The late monarch's funeral attracted huge media coverage and public attendance despite the gloomy weather (which certainly added a touch of pathetic fallacy). Many royals from abroad, including Princess Anne of the UK, also travelled to Luxembourg to pay their respects, as well as members of the Irish Guards who played the bagpipes in a touching tribute to Grand Duke Jean's time in the military – he had volunteered with the Irish Guards during the Second World War.
Earlier in the year, the Grand Duchy had also mourned the deaths of two soldiers following an explosion at the Luxembourg military camp in Waldhof (February). Similarly, 2019 ended on a tragic note with the death of a two-year-old boy following the collapse of an ice sculpture at the Christmas Market in Place Guillaume II (December).
Félix Braz in Hospital
Another shock came when Luxembourg's then Deputy Prime Minister and Minister of Justice Félix Braz suffered a heart attack in August. Despite his condition stabilising, Mr Braz decided to relinquish his government role in order to focus on recovery. The decision thus led to a reshuffle of Green Party positions within the coalition government in the following months, with Sam Tanson and François Bausch assuming the duties of Justice Minister and Deputy Prime Minister respectively
Controversies
It would be difficult to survive a full year without some controversy stirring things up and 2019 was no different for Luxembourg in this regard. In many ways, it was a particularly unsettling year for the Green Party. Despite gaining 3.9% of the vote share in the European Elections in May 2019, the party was thrown by the hospitalisation and subsequent resignation of Félix Braz. The Greens then had to respond to controversy surrounding the unauthorised construction of a summer house on a nature reserve in September. The affair led to the resignation of then Green MP and Mayor of Differdange, Roberto Traversini, the following month.
There was also much disagreement over Google's plans for a €1 billion data centre in Bissen, which got the green light in November 2019. Arguments against these plans focussed on the potential impact on the environment and pressure on local resources, namely water. In fact, an environmental impact study is yet to take place…
On a perhaps less negative note, one of the most popular as well as controversial news items of 2019 was the launch of a public petition requesting the inclusion of English as one of Luxembourg's administrative languages. The petition, launched in November, requested that English be recognised as an additional administrative language in Luxembourg, ie in addition to Luxembourgish, French and German. Whilst some (non-Luxembourgers and Luxembourgers alike) welcomed the idea as a means of simplifying and making more accessible the often very technical language used in administrative matters, others (again regardless of nationality) expressed outrage at the suggestion. Some argued that adding a fourth language would be an unnecessary expense and that adding English would mean having to add Portuguese, Italian and other widely used languages in Luxembourg, as well; others countered that English is the world's lingua franca. Regardless of your personal view on the matter, the petition certainly gained a lot of attention. Let's just see if it bears any fruit in the new year…
Record Temperatures, Tornado
Despite the efforts being made to combat climate change, there were some worrying cases of severe weather over the past year in Luxembourg. Notably, summer 2019 saw Luxembourg hit a new national maximum temperature record of 40.8 °C, as recorded at Steinsel on 25 July. One month later, a tornado struck the municipalities of Pétange and Kaerjeng in southern Luxembourg (9 August), leaving several people injured and many more having to be rehoused due to material damage.
Roadworks
Finally, and on a slightly lighter note, no piece on Luxembourg would be complete without mentioning the joy that is roadworks. 2019 was arguably the worst year to date (at least in my three years living here) for disruption caused by roadworks and construction work. However, with already visible signs of progress being made on the tram network paired with little sign of improvement on the disruption / traffic front, it seems this is just something we'll all have to grin and bear for another year…
So there you have it. Like anywhere, Luxembourg had its ups and downs in 2019 (and not all could be mentioned even in such a long article), but it will certainly be interesting to see where the new year – and decade – takes us!