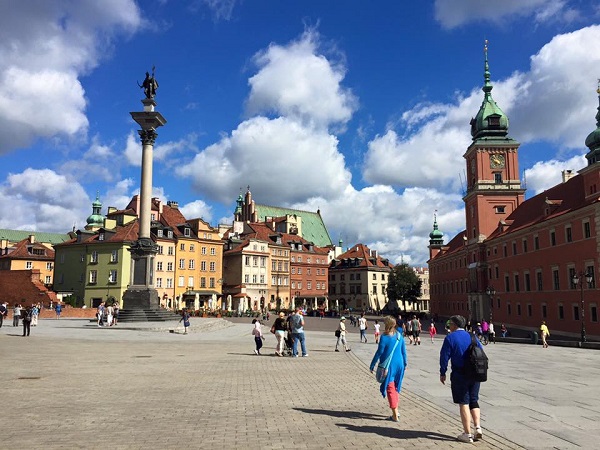 On 1 March 2016, LOT Polish Airlines (in codeshare with Luxair) launched a new route from Luxembourg to Warsaw, offering direct access to the Polish capital for the first time, as well as using Warsaw as a hub which provides connections to northern and eastern European destinations including Stockholm, Palanga, Vilnius, Kosice, Bucharest, Sofia, Riga, Istanbul and Budapest.
Last week-end I got the opportunity to travel to Warsaw, a city I had yet to visit. I purposefully did little research beforehand, wanting to revel in the discovery of something new. What I did know was two things; firstly, Chopin was born in what is now Poland and, secondly, I remember living through the unrest in the Polish shipyards of Gdansk, with Lech Walesa being at the head of the Solidarity movement, winning the Nobel Peace Prize and later becoming the first elected President of the country.
Travel
The outward flight was on early Friday evening, with a 19:15 departure time. With Luxembourg airport relatively quiet, passing through security was as quick as always. With the scheduled boarding time still a half-hour away, and a 15-minute delay announced, although the incoming aircraft had already arrived, I took the opportunity to boot up my laptop, check emails and do a last bit of work before the flight.
We boarded availing of the convenience of a passenger boarding bridge, straight onto to the 70-seat Embraer 170 jet. The aircraft was surprisingly roomy, with plenty of space in the seat and regarding legroom. Having noted beforehand that the in-flight service was not complementary, I was prepared not to expect any surprises. On the 100-minute trip I managed to read a bit, have a nap and read some more before we came into land.
After taking a short bus ride to the passenger terminal, my first introduction to Chopin, the passengers had a short stroll through the airport, and I remembered to make a quick deviation to an ATM to get some Zlotys (noting an exchange rate of circa 4:1 for Euros) before locating the head of the taxi rank - where I was staying had advised me this would be the quickest and most straight-forward way of getting there, costing just 40 Zlotys (€10), a snip compared to taxi prices in Luxembourg.
For details of LOT Polish Airlines, see www.lot.com, or via Luxair who operate a code-share, see www.luxair.lu.
Accommodation
It took less than 15 minutes to get to the Autor Rooms on Lwowska in Warsaw's city centre, very close to Constitution Square, with my initial reaction of the city being of wide streets and many buildings of 5-7 storeys high. There were trolley buses and trams in operation, and I learnt the following day that Warsaw also has a 2-line underground system too. It was wet on the ground, and relatively humid after a thunderstorm.
The 6-storey building had been built in the early 1950s, after WWII when much of Warsaw had been destroyed, and the owners of the large 3rd floor apartment has evidently done a great job recently at renovating it and turning it into a chic guest property with four uniquely-styled rooms, retaining the original high ceilings and double windows, as well as preserving the original stucco and wooden floors. The designers have used mirrors and copper piping to both give a perspective of depth and originality, as well as homely comfort.
I had a separate bedroom with large double bed and balcony, a long sitting room/study with sofa and desk, and a spacious bathroom. Central to all of this was the open common space offering a library and breakfast area, where all guests are served while at the one large table.
Breakfasts included hard boiled eggs, a variety of bread with a selection of spreads and jams, as well as cold meats, tomatoes, cucumber and avocado, and a selection of cheese, also, tea, coffee and fruit juice. Enough there to sustain hungry guests before a long day ahead!
The community aspect was interesting, with some guests there both nights I was there, and others there for just one of the nights, replaced by others I met the following morning over breakfast. Some were visiting from elsewhere in Poland, with others from the UK and other European countries. Always an interesting way to start the day.
For details of the accommodation, see www.autorrooms.pl.
Lazienki Park
For this trip, the Poland Tourism Office has arranged for a guide for the day. Agnieszka and I discussed what I could do and see and together we planned to first visit the extensive Lazienki Park, then walk parallel to the river and to the Old Town which has been where the Jewish ghetto had been located during WWII, with a bit of Chopin along the way. And we would walk it all - no public transport, no taxis, just by shank's mare; in total we walked almost 20km, and I did almost half that again the following morning by myself.
Before the World Wars, Warsaw used to be called the Paris of the North, and it now has a population of circa 2 million people, of which circa 300,000 are students. While the average wage in Poland is equivalent to circa €1,000/month, wages in Warsaw are higher, but so too is the cost of living. Agriculture is still the main economic contributor to the country's GDP, with Warsaw mainly involved in service industries.
The Lazienki Park is right in the middle of the city and covers an area of circa 74 hectares; once inside, one is in a different world and cut off from the hubbub of city life - maybe this is why the former Polish kings liked it so much. It still has peacocks and the forests are full of read squirrels, so dogs are not encouraged, and neither are cyclists allowed - yet the wide streets in the city centre have plenty of cycle paths and there is a also a public bicycle rental scheme, just like Luxembourg's Vel'oh! system.
The park is dotted with buildings - including one name the Orangerie, like at Mondoef-les-Bains - camouflaged by the green tree canopies, but accessible by the myriad of paths. These buildings all used to be owned and used by the royals, but now one can rent them out for private and/or corporate events. As well as the numerous sculptures there is also an amphitheatre where two open-air Chopin concert recitals are performed daily, and some ponds providing the water features. In fact, the park is one of the locations of around 15 musical benches, made from stone with inscriptions and shot pieces from different compositions he wrote.
I learn that the country had its first constitution in 1791, the first country in Europe to do so. Its kings were from its royal family but were later elected.
Chopin
Warsaw is immensely proud of its famous musical son, Frédéric Chopin, with its international airport passenger terminal named after him. He father was originally from Paris, and he was born in Warsaw (in 1810) along with his two sisters. Another sibling died young. He showed signs of genius at a very young age but his father wanted his to "get a proper job" before marrying, so he could prove to be able to support a family. He left Warsaw and went to Austria, before moving to France aged 21 for what were to be the final years of his life, until he died aged just 39 years, probably from tuberculosis. He is buried there, but his heart was secretly moved back to Warsaw by his sister and was later publicly located at a church beside where he had lived earlier, in Poland's capital.
We passed the Chopin museum which dates from the 1930s, but has been located at the Ostrogski Palace since 1953 where it also contains a library and collections of photographs and recordings, including a number of original manuscripts of his works, as well as a mutimedia museum. It was refurbished in 2010 for the 200th anniversary of his birth.
Warsaw
In walking along the streets of Poland's capital, one thing that may have been rather difficult to see if we had been using any other form of transport - the footpaths are frequently decorated with intricate designs involving bricks, stones and cobbles.
I learn that 85% of the city had been destroyed towards the end of WWII, which explains what is described as the city's neo-classical architecture. It doesn't seem to me to be as stark as, say, in Helsinki, but that's a good think for Poland. It would be interesting to visit other Polish cities in the future and see what their architecture is like.
The city is very flat indeed, with only the area along the river showing any real change to the topography. As well as monuments and statues to personalites such as astronomer Nicolaus Copernicus, there are others of foreign personalities including Ronald Reagan and Charles de Gaulle.
We walked along the Nowy Swiat - from the artificial palm tree northwards towards the Old Town - a long street with plenty of cafés, coffee shops and restaurants, with plenty of flower boxes and geraniums blooming, and stopped at one offering traditional Polish fare. I tried the sour rye soup with sausage and egg, with a main course of succulent venison which normally we would have to wait for until the hunting season in the autumn, here in Luxembourg.
We visited the Warsaw University Library, itself a unique building designed by architects Marek Budzyński and Zbigniew Badowski which incorporates a botanical garden on its roof and which offers stunning panoramic views of the city an od the nearby Copernicus science centre. Close by there are new apartment blocks and, further away, the skyline is dotted with a few skyscrapers, two of which are for apartments and the others for offices.
I noticed as well that there were precious few jaywalkers, with tourists respecting the way that residents (pedestrians) would wait until pedestrian lights would change to enable them to cross roads. The same was not the same, though, regarding the illegal use of mobile phones in cars while driving...
The Old Town and the Uprising
At the time of WWII, 30% of the population of Warsaw was Jewish (circa 380,000 people). During the Nazi occupation, the ghetto was created by adding street by street to the restricted area which eventually turned into an area of slave labour. Due to the atrocious conditions, around 100k Jews died of disease and starvation, with another 300k brought away to camps by train (Auschwitz is 230 km away, just further than Krakow). In fact, there were two uprisings.
The first uprising happened on 19 April 1943, with Jews in the ghetto protesting against the trains and inhumane conditions. It was all over on 16 May when the Nazis set the ghetto on fire and blew up the main synagogue (just 1 of 400 synagogues has survived to this date).
The second uprising too place on 1 August 1944 when the Soviets were coming. The Polish underground wanted to liberate the city but Stalin did not want to help and stopped his troops from crossing the river, so the uprising had no support. Hitler then ordered the destruction of Warsaw and circa 50,000 people were killed in the first 5 days; in total, 200,000 people died, incl. 20,000 members of the underground movement.
The Jewish Museum is the pick of the city's numerous museums and is located just outside the old city walls and the Barbican, the gate house. It has eternal flames burning outside and was designed by the same architects as for the university library
The current Old Town has been completely rebuilt but is a delight to walk through, with cafés and souvenir shops adorning the squares and streets. I re-visited the Old Town on the second day when the sun was shining, when a lot more people were out, both locals and tourists.
The second day of my stay in Warsaw co-incided with a cycle race, with different categories for young and old alike. It reminded me of the Skoda Tour of Luxembourg and the Gala Tour de France held a few years ago in Luxembourg city centre, such were the mass numbers of cyclists who had swarmed into the city centre. And how appropriate too, after Poland's Rafał Majka had won a bronze medal in the Men's Road Race at the Rio Olympics the day previously.
So, overall, Warsaw has a huge amout to offer; while its main offerings may be historical and is therefore perfect for those wanting to discover more about recent history, including WWII, as well as the legacy of Frederik Chopin, its beautiful parkland is just waiting to be explored, along with its neo-classical architecture and modern design.
To get there, see either www.lot.com or www.luxair.lu.
Photos by Geoff Thompson - for full photo album (on Facebook), see https://www.facebook.com/Chroniclelu/photos/?tab=album&album_id=926615234116449.