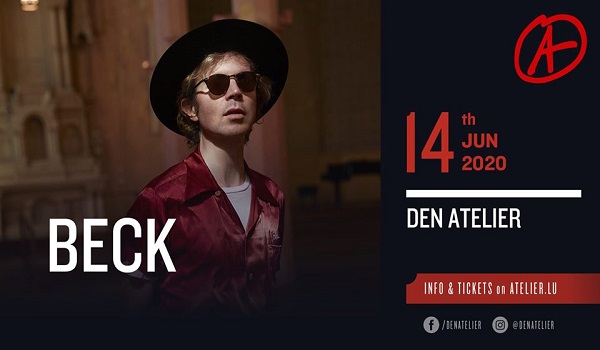 Details:
US singer-songwriter and record producer Beck Hansen will play a concert on Sunday 14 June 2020 from 19:00 at den Atelier in Luxembourg-Hollerich: POSTPONED.
As the title of his brand new 14th album "Hyperspace" implies, seven-time Grammy-winner Beck has travelled light years from his emergence as a reluctant generational spokesperson when "Loser" exploded from a rejected 1992 demo into a ubiquitous 1994 smash. In the decades since, Beck's singular career has seen him utilise all manners and eras of music, blurring boundaries and blazing a path into the future while simultaneously foraging through the past. Surfacing just as alternative rock went mainstream, Beck quickly confounded expectations with subsequent releases including the lo-fi folk of "One Foot in the Grave". But the album that first cemented Beck's place in the pantheon was 1996's multi-platinum Best Alternative Grammy winner "Odelay". Touching on all of Beck's obsessions, Odelay remains a key cultural touchstone from the indelible hooks of "Devil's Haircut" and "The New Pollution" to the irresistible call and response of the Grammy-winning anthem "Where It's At."
Tickets cost €51.50 and are now available from den Atelier's website at https://www.atelier.lu/shows/beck-2/.
Venue: den Atelier, Luxembourg-Hollerich
Organiser: den Atelier
Price: See above
Reservations: See above