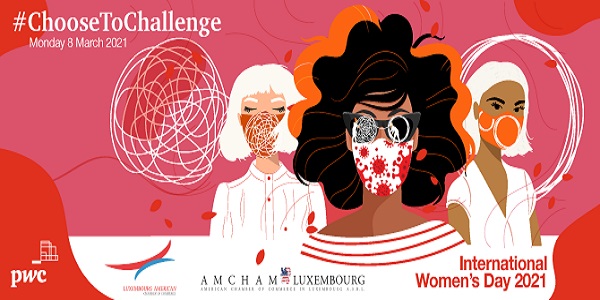 Details:
PwC Luxembourg and the American Chamber of Commerce in Luxembourg (AMCHAM), together with the Luxembourg American Chamber of Commerce New York, are holding their fourth International Women's Day panel presentation on Monday 8 March 2021 at 16:00.
In the past, this event has addressed career advice, success in the workplace and in life, innovation and creativity. This year, the focus will be on the current situation linked to COVID-19, how to deal with crisis and manage disruption, what is being done to relaunch the economy and if this situation has a disbalanced impact. The topic is: "Disruptive times: opportunities and challenges for gender balance?"
To guide this fully digital conversation, Nathalie Reuter will serve as moderator, accompanied by a stellar panel:
Julie Becker, Deputy CEO and future CEO (as of 21 April 2021) of Luxembourg Stock Exchange (LuxSE);
Jeanne Crauser, Consulate General of Luxembourg in New York, Executive Director of Luxembourg Trade and Investment Office (LTIO);
Martha Crawford, Dean of the Jack Welch College of Business & Technology;
Claude Marx, Director General of the Financial Sector Supervisory Commission (Commission de Surveillance du Secteur Financier - CSSF);
Hjoerdis Stahl, Deputy Managing Director of POST Luxembourg;
Françoise Thoma, CEO of Banque et Caisse d'Épargne de l'État (BCEE)
Register at survey.pwc.lu/efm/itw/answer/s/NkFmJzlrC9/k/5nLbAoK.
Venue: Online
Organiser: PwC, AMCHAM
Price: n/a
Reservations: See above