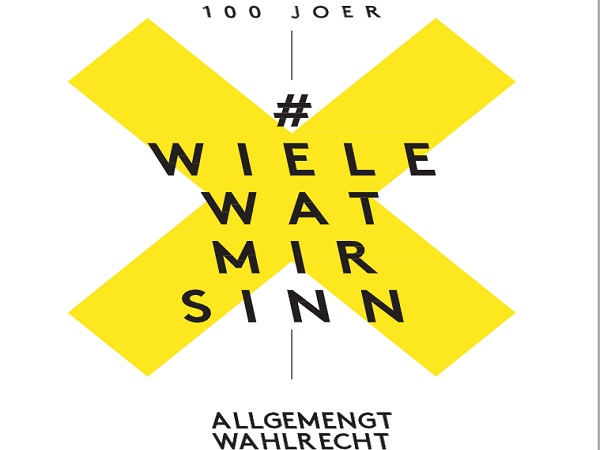 Details:
Luxembourg's Chamber of Deputies will be hosting the colloquium "100 years of universal suffrage in Luxembourg and in Europe" on Friday 28 February 2020 in the plenary room, from 08:30 to 18:30.
Organised by the Chamber of Deputies and the National Museum of History and Art (MNHA), this international scientific colloquium forms part of the "#wielewatmirsinn" exhibition on the centenary of the introduction of universal suffrage in Luxembourg. Some of the questions addressed in this conference include how demand for universal suffrage developed in Europe, what role women's suffrage played and what forms parliamentary democracy took after the First World War.
The symposium will focus on the struggle for political rights in different European countries, notably in the Grand Duchy, as well as their introduction and their effects in the following decades. The contributions will cover a wide range of aspects related to the subject, from history and political science to social science, gender studies and architecture.
The languages ​​of the conference will be French, German and English.
Preceding the colloquium will be a public opening conference with guest speaker Michel Offerlé, taking place on Thursday 27 February 2020 at 18:30. On this occasion, Michel Offerlé, an historian and professor at the École Normale Supérieure in Paris, will give a lecture building on the ideas in his book "Un homme, une voix ? Les universalités du suffrage". More specifically, he will question the economic, social and political conditions of the introduction of universal suffrage from the 19th to the 21st century in a comparative way.
Further information is available at www.wielewatmirsinn.lu. To register, send an email to info@wielewatmirsinn.lu.
Venue: Chamber of Deputies (plenary room)
Organiser: Chamber of Deputies; MNHA
Price: n/a
Reservations: See above