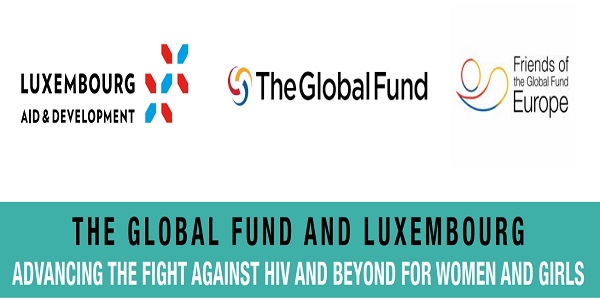 Details:
The Neumünster Abbey will host the conference "The Global Fund and Luxembourg Advancing the fight against HIV and beyond for women and girls" on Thursday 14 March 2019, from 1700 to 1900.
The conference will draw from the Sustainable Development Goals (SDGs) demand for collective, inclusive and mutually-reinforcing action against AIDS, tuberculosis and malaria, and especially HIV. The emphasis will be on the plight of women and girls in this context, since nearly 1000 girls are infected with HIV daily. Moreover, sub-saharan Africa saw one million new HIV infections in 2017, with women older than 15 counting for two-thirds, that is 578,200 (almost the size of Luxembourg's population).
In particular, given the challenges of unprecedented population growth, rapid urbanisation and un-integrated remote communities, women and girls in sub-Saharan Africa are at disproportionate risk of HIV, up to 8 times as much as males of the same age. As such, a whole generation of women and girls are at risk of being left behind. As specified by the SDGs, the fight against AIDS is also a matter of justice access to diagnosis, treatment and care is a right.
To achieve this, the Global Fund has released its Investment Case for 2020-2022, further recognising the central role of women and girls in achieving SDGs and global goals in general. The Global Fund's innovative and tailored responses, specifically designed to tackle human rights obstacles and gender inequalities, are in line with Luxembourg's development-cooperation policies and priorities. The latter go beyond the fight against epidemics, supporting a broader spectrum of interventions which improve women's and girls' health and also protect and promote their rights.
Tomorrow, leading global health experts and Luxembourg's decision-makers will debate the challenges and responses in the fight against AIDS/HIV and beyond for women and girls. Speakers include Paulette Lenert (Luxembourg Minister for Development Cooperation and Humanitarian Aid), Peter Sands (Executive Director of the Global Fund), Marc Angel (Chair of the Foreign Affairs Committee, Luxembourg) and Daouda Diouf (Director of ENDA-Santé, Senegal). Nuria Molina (Bill and Melinda Gates Foundation) will moderate the discussion. The event will close with a Q&A session and closing remarks from Charles Goerens (MEP and AFME Vice-Chairperson).
Interested persons should register via email eu-lux-bel@afmeurope.org.
Venue: Neumünster Abbey
Organiser: Global Fund; Luxembourg Ministry for Development Cooperation and Humanitarian Aid
Price: Free
Reservations: eu-lux-bel@afmeurope.org