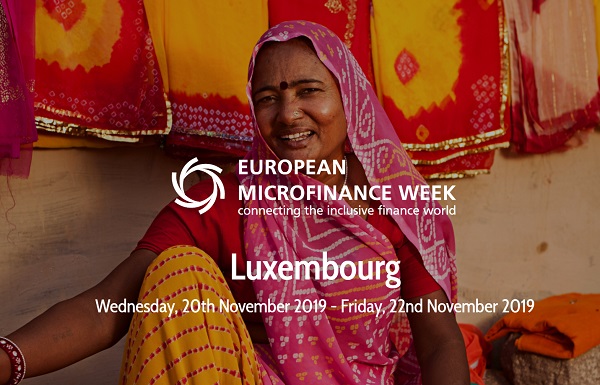 Details:
The European Microfinance Week 2019 will take place in Luxembourg from 20 - 22 November at the Abbaye de Neumünster in Luxembourg-Grund.
European Microfinance Week, organised by the Luxembourg-based European Microfinance Platform (e-MFP), is a key event in the microfinance calendar, bringing together some 500 professionals each year. Indeed, last year's event attracted participation from 450 leading global experts, policy-makers and investors from the financial inclusion sector, working in 69 countries.
The three-day event attracts leading experts, opinion-leaders and policy-makers to its plenaries and workshop sessions tackling front line topics. This year's plenaries, taking place on 21 and 22 November, are: "Strengthening resilience to climate change through financial inclusion", featuring the finalists of the European Microfinance Award 2019 (APA of Kenya, ASKI of the Philippines and FDL of Nicaragua); "Protecting the working poor in the 21st century through responsible finance", featuring Craig Churchill, Chief Social Finance Programme at the International Labour Organisation, Guy Stuart, Executive Director at Microfinance Opportunities, and Reema Nanavaty, Secretary General of SEWA (India); "Responsible client choices in finance: whose responsibility is it?", featuring Gerhard Coetzee, Lead from Customer Value at CGAP, Roshaneh Zafar, Founder Kashf Foundation in Pakistan, Timothy N Ogden, Managing Director of the Financial Access Initiative, and Mayada El-Zoghbi, Managing Director of CFI.
In addition, the event includes more than 25 sessions covering the most relevant issues in the sector today, such as: accelerating responsible digital transformation through impact investing; financing access to education; leveraging data to promote climate resilient agriculture; from social intent to social impact; improving financial health; climate disaster relief for sustainable resilience; financial inclusion in Bangladesh; innovative business models in energy; refugee finance; opportunities for gender inclusion via Fintech; financing cooperatives.
Recently confirmed speakers include Anup Singh (MSC), Gera Voorips (Triple Jump), Jessica Schicks (BIO), Vincent van Dugteren (Oikocredit), Laura Foose (Social Performance Task Force (SPTF)), Timothy N Ogden (Financial Access Initiative), Patricia Richter (ILO) and Lucia Spaggiari (MFR).
Finally, the winner of the €100,000 European Microfinance Award 2019 for "Strengthening resilience to climate change" will be announced during a ceremony at the European Investment Bank on 21 November. All European Microfinance Week participants are invited to attend.
Programme
Wed. 20 Nov.
09:00 - 13:00: Workshop "Addressing cyber security risks in developing countries' financial sectors" (Room A11)
11:00 - 13:00: e-MFP Human Capacity Development Action Group (Room Edmond Dune)
11:30 - 13:00: ATLAS data platform (Room Chapel)
12:00 - 14:00: Networking lunch (Agora)
13:00 - 16:00: e-MFP Green Inclusive & Climate Smart Finance Action Group (Room José Ensch)
14:00 - 15:30: e-MFP Board meeting (Room A16)
14:00 - 16:00: Measuring investor contribution to SDGs (Room Nic Klecker)
14:00 - 16:00: Making digital credit truly responsible: Lessons from Kenya (Room Chapel)
16:15 - 17:45: e-MFP General Meeting of Members (Room Edmond Dune)
16:15 - 17:45: Networking (Agora)
18:00 - 19:30: ADA 25th anniversary
19:30 - 21:00: Cocktail Reception (Agora)
Thurs. 21 Nov.
09:00 - 10:30: Opening Plenary: "Strengthening resilience to climate change through financial inclusion"
10:30 - 11:00: Networking/Coffee break (Agora)
11:00 - 12:30: Morning Sessions: "Accelerating responsible digital transformation through impact investing"; "Challenges of climate change & opportunities for financial inclusion"; "Pursuing financial inclusion through ethical banking"; "Looking back/looking ahead: Sector trends in the Barometer and the Compass"
12:30 - 14:00: Networking lunch
14:00 - 15:30: Early Afternoon Sessions: "Leveraging data to promote climate resilient agriculture"; "From social intent to social impact: Measuring & rewarding outcomes"; "From the ivory tower to the field: Academic research for practitioners"; "Investors as partners or adversaries? Creating efficiencies through collaboration"
15:45 -17:15: Late Afternoon Sessions: "ATLAS data platform: A new 'one-stop-shop' for the sector"; "Climate disaster relief for sustainable resilience"; "Risky business: Mitigating child labor & unsafe work practices"; "Managing cyber security risks"; "Financial inclusion in Bangladesh"
18:30: European Microfinance Award 2019 Ceremony (followed by cocktail reception) at EIB
Fri. 22 Nov.
09:00 - 10:30: Plenary: "Protecting the working poor in the 21st Century through responsible finance"
10:30 - 11:00: Networking/Coffee break (Agora)
11:00 - 12:30: Morning Sessions: "Strengthening resilience to climate change: The role of financial regulators"; "Financing cooperatives – the good, the bad and the ugly!"; "Innovative business models in energy"; "Financing access to education, how to make it work"; "Improving financial health"
12:30 - 14:00: Networking lunch (Agora)
14:00 - 15:30: Afternoon Sessions: "Opportunities for gender inclusion via Fintech"; "Investing in climate change resilience"; "Serving the dispossessed: Financial products and services for displaced populations and refugees"; "Lump sums & safety nets: How to encourage savings"
15:30 - 16:30: Closing Plenary: "Responsible client choices in finance: Whose responsibility is it?"
16:30 - 17:15: Closing drink (2nd floor)
Venue: Abbaye de Neumunster in Luxembourg-Grund
Organiser: e-MFP
Price: Regular rate and organisationnal members: €625; Individual Member (≠organisationnal member): €250; Students rate (on request): €100
Reservations: https://registration.european-microfinance-week.eu/website/1033/home