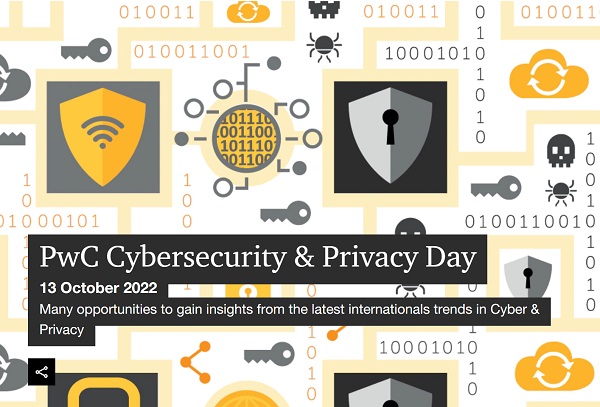 Details:
The upcoming edition of the PwC Cybersecurity & Privacy Day will take place in person at the company's Crystal Park premises on Thursday 13 October 2022.
This year's main theme will be: Critical Infrastructure Protection. As always, the event occurs within the framework of Cybersecurity Week, designed to position Luxembourg as a leading European location for cybersecurity startups, talent, investors and experts who are looking for growth opportunities.
As every year, one of the highlights of the PwC Cybersecurity & Privacy Day is the Pitching competition which has become an integral part of the event. The competition looks for the top five innovative solutions addressing major cybersecurity or privacy challenges. The call for applications is open until Wednesday 15 June 2022. The five selected solutions will be announced on Monday 12 September, with PwC coaching commencing from Tuesday 13 September 2022. The winner will be announced at the Cybersecurity Week Luxembourg Award Ceremony and Gala Dinner on Thursday 20 October 2022.
Koen Maris, Cybersecurity Leader at PwC Luxembourg, commented: "We live in a world that is ever more connected, where the physical is moving so close to the digital soon it may be hard to tell them apart. Think about the range of it- from 3-D, sensors, Internet of Things (IoT), machines, factory processes, places and people. This convergence brings with it a whole new wave of opportunities, but it also poses certain risks. We also live in a world where we are more vulnerable, due to the fact that critical infrastructure operations that used to stand alone now link to the internet, which we know can be breached, and to a universe of data that is often sensitive. And all this in light of the current geopolitical context".
He continued: "This is why this year we chose the timely topic of Critical Infrastructure Protection (CIP) and can't think of a better way to progress in this area than converging ourselves for a full day of activities. Join us for a fascinating day of discussions on this topic so we can debate and learn together how to better protect, prepare for and respond to threats and incidents involving critical infrastructure ecosystems".
The mission of the PwC Cybersecurity and Privacy Day is to help chief information security officers (CISOs), data protection officers (DPOs) and chief executive officers (CEOs) ensure they keep their organisation secure in a digital society.
Venue: PwC - Crystal Park (2 Rue Gerhard Mercator, 2182 Luxembourg)
Organiser: PwC Luxembourg
Price: See website
Reservations: See website
URL: For details, see https://www.pwc.lu/en/advisory/digital-tech-impact/cyber-security/cybersecurityday.html