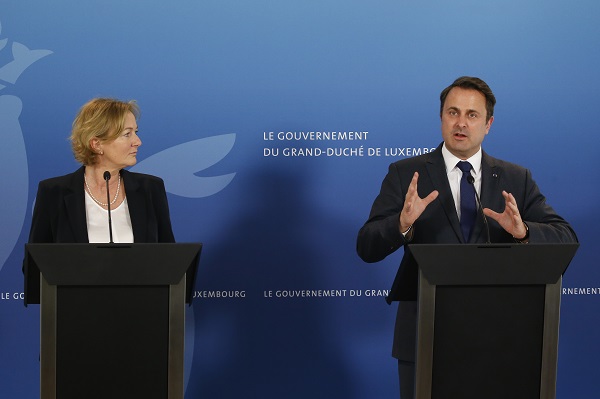 L-R: Paulette Lenert, Luxembourg's Minister of Health; Prime Minister Xavier Bettel; Credit: SIP
Luxembourg's Prime Minister Xavier Bettel and the Minister of Health Paulette Lenert provided an update of the national COVID-19 situation at a press conference on Monday afternoon.
The Prime Minister began by recalling how unpredictable the virus is, especially now with the emergence of the new Omicron variant. He noted that not enough is yet known about this variant and so it is too early to judge its impact.
Nevertheless, there were "too many deaths over the weekend", as cases surged in Luxembourg, and across Europe. He recalled that whilst the situation remains manageable in hospitals, this "could change at any moment". He emphasised the need for more people to get vaccinated, because "the vaccine works": it is proven that vaccinated people are less likely to spread the virus, get ill or end up in intensive care as a result of the virus. Moreover, the highest incidence rate in Luxembourg currently applies to under-12s, i.e. the age group which has not yet been able to get vaccinated.
The Prime Minister emphasised that the government wants to avoid another lockdown, whilst maintaining the balance between safety and freedom. Whilst there are no new closures planned, the government has decided to apply a "2G" regime to leisure activities. This means that access is limited to those who are either vaccinated ("geimpft") or recovered ("geheelt") from the virus. Rather than waiting until the current COVID-19 law expires on 18 December 2021, the government plans to introduce these measures as early as next week, depending on how the Chamber of Deputies (Parliament) votes on the new bill.
A "3G" CovidCheck system will become mandatory in the workplace from January 2022 (to allow people time to get vaccinated). This means that employees are required to be vaccinated ("geimpft"), recovered ("geheelt") or possess a negative certified test result ("getest"). Prime Minister Xavier Bettel said that the government is currently in talks with trade unions to see how this system can be implemented in practice.
Moreover, the Prime Minister announced additional identity checks to prevent people from using fake CovidCheck certificates or using another person's QR code. Police officers will continue to carry out checks in the coming weeks, with these measures set to remain in place until the end of February 2022.
In addition to the recently announced increased testing in schools, the Prime Minister confirmed that the validity of PCR tests will be reduced from 72 to 48 hours and that of certified rapid antigen tests from 48 to 24 hours. Visitors to nursing or retirement homes will be required to wear masks and carry out a rapid antigen test upon arrival, in addition to presenting their CovidCheck certificates.
The government also recommended working from home where possible to reduce contacts.
Regarding the roll-out of booster vaccine doses, Prime Minister Xavier Bettel confirmed that the system is working well. He added that the government decided today that individuals who received the AstraZeneca vaccine will be eligible to get their booster after four months rather than six, as the efficiency of this vaccine has been proven to deteriorate faster than mRNA vaccines. He noted that many different places are administering vaccines, as part of efforts to make the process as easy and accessible as possible: in addition to the three vaccination centres, there are mobile teams and around 300 GPs can currently administer the jab. This will soon be possible in pharmacies, as well.
Health Minister Paulette Lenert reiterated the fact that the virus has a reduced impact on vaccinated people. In light of the new variant, she recommended reducing social contacts and announced new restrictions on the size of gatherings: the 2G system will apply to groups of between 200 and 1,000 people.
The Health Minister provided additional details of the nationwide vaccination campaign, explaining that mobile vaccine teams will travel across the country. The full programme will be made available online.
Minister Lenert added that getting tested remains important, especially after developing flu-like symptoms. She recommended carrying out a self rapid test before meeting others or visiting elderly relatives as a form of extra security.