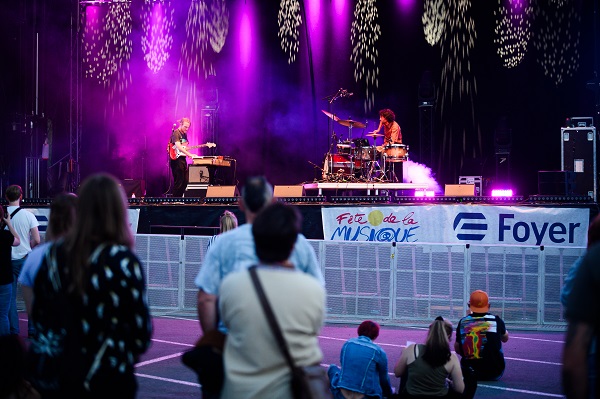 Fete de la Musique, Kayl 2022; Credit: Anouk Flesch
The municipality of KälTéiteng (including Kayl) has announced a series of events this summer centred around skateboarding during the Skéiteng Kälifornia Summer.
Designed to captivate both the youth and the young at heart, these experiences promise to reignite the excitement and adrenaline of the past while embracing the spirit of today.
16.06 - 01.10.2023 / SKATEBOARDING IS NOT AN EXHIBITION
The kick-off will be on Friday 16 June 2023 with the grand opening of "Skéiteng Kälifornia" - SKATEBOARDING IS NOT AN EXHIBITION takes one back to the golden era of skateboarding from the mid-80s to the early 90s.
It will pay tribute to the pioneers of skateboarding with the presence of legendary skateboarder and musician Claus Grabke. Claus, the first European skateboarder to turn professional for multiple high-profile US sponsors, including Madrid Skateboards, Powell-Peralta and Santa Cruz, will share his remarkable journey and insights.
Join us at 19:00 for an opening ceremony featuring a Q&A session with Claus and Fynn (Claus' son), exploring their passion for skateboarding and music.
Presented by MUAR (Musée vun der Aarbecht).
At 20:00, the exhibition will be officially opened, offering guided tours to immerse oneself in the nostalgia and culture of skateboarding.
Finally, at 21:00, prepare to be captivated by the electrifying performance of Claus' son, Fynn Grabke, and his band, the Picturebooks. Inspired by skateboarding and motorcycling, their unique style of neo-dark garage blues transcends genres and leans closer to hardcore and punk than anything else.
21.06 BLACK FLAG / Fête de la musique Kayl
The exhilaration continues on 21 June as Black Flag, led by yet another legendary skateboarder, Mike Vallely, takes centre stage at the Fête de la Musique in Kayl.
Get ready for an explosive night of music as they unleash their raw power. Joining them on this sonic journey are a group of bands closely connected to skateboarding and the underground punk/hardcore scene, including The Picturebooks, Versus You and Petrograd.
Throughout the summer, a diverse range of exciting events awaits, including workshops tailored for children, providing them with an opportunity to learn, grow and explore their passion for skateboarding and creativity. More surprises and events will be announced soon, ensuring a summer that will resonate with the thrill-seekers and visionaries within our community.
For further details, see www.schungfabrik.lu