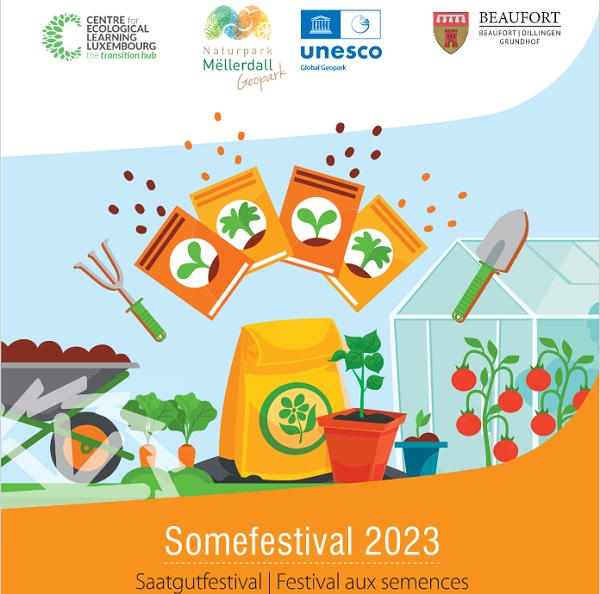 On Monday 6 March 2023, the Natur- & Geopark Mëllerdall (in Mullerthal) announced that they are organising a Seed Festival this coming Saturday 11 March 2023 from 10:00 - 18:00.
The event is being held in Beaufort in collaboration with the Generatiounsgaart (Generations Garden organisation) and is focussed around seeds and plants with "stable hereditary properties" from the region.
During the event, those who wish to buy regional seeds and young plants, discover cultivation techniques and exchange their own seeds, can meet together. Throughout the day there will be seminars and lectures on the preservation and breeding of old and unknown varieties and the importance of how we can grow our own vegetables independently.
There will also be a trading corner where everyone can bring their own seeds and trade them (please only bring seeds of varieties from your own garden: leftovers from the garden centre and hardware stores as well as the F1 Hybrid are not welcome).
Participants:
• SEED with Frank Adams (Lux) https://seed-net.lu
• Regenbogenschmiede (D) www.regenbogenschmiede.net
• Freie Saaten (D) www.freie-saaten.de
• Freie-Saaten e.V. (D) http://www.freie-saaten.de/
• Friedmunt Sonnemann/Königsfarmsaaten (D)
• Eifeler Kitchenkraut (D) www.kuechenkraut.de
• Eisléker Séisselschoul (L) Scythe Circle
• Beers and Drinks with Trew Brew Trade
• Coffee room with Patrice Coffee: Specialised lectures/seminars (ancient fruit growing, wildflower meadow, insect hotel, gravel gardens, bees, wild herbs, etc.)
• Workshops (seed bombs, wild herbs, nesting aids, etc.)
• Tips & Tricks
• Permacultural tour through the Generatiounsgaart