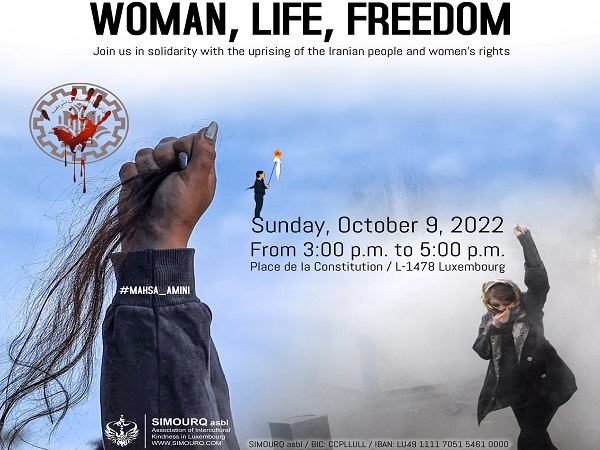 Simourq asbl, a cultural non-profit organisation for the integration of Persian speakers in Luxembourg, has announced that it is organising a demonstration in support of women's rights, following the death of the young Iranian woman Mahsa Amini, in Place de Clairefontaine in Luxembourg-Ville on Sunday 9 October 2022, from 15:00 to 17:00.
The death of 22-year-old Mahsa Amini after being detained by Iran's morality police last month has sparked widespread protests in Iran and around the world. As Simourq asbl explained in a press release, Mahsa Amini's name has "become the code word for resistance and the people of Iran are voicing their rage and anger towards the 44-year rule of the Islamic regime that has no means of survival except violence, persecution, oppression, murder and corruption". Security forces have cracked down on the protests, with thousands of people arrested, hundreds injured and dozens dead, according to rights groups.
"Deadly clampdown, harsh repression and human rights violations are happening every day in Iran in 2022", Simourq asbl added. "Dozens of journalists and students are under arrest [every day]".
In this context, the local non-profit is organising a protest this Sunday aimed at showing solidarity with the people of Iran, particularly women and girls, and voicing opposition to "this ongoing human rights catastrophe".
Further information is available at: https://luxembourgchekhabar.com/manifestation/.