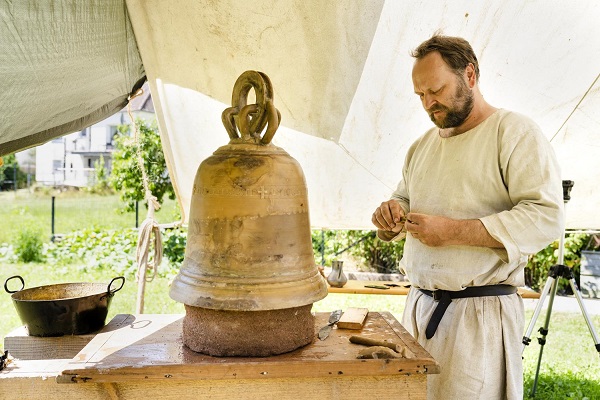 Dr. Bastian Asmus with Stolzembourg bell; Credit: Caroline Martin, Naturpark Our
The Syndicat d'Initiative Stolzebuerg, a town on the border with Germany, just north of Vianden, has announced that, since 20 June 2022, a bell has been produced on the town square using methods from the 12th century - for the first time in Luxembourg.
Stolzembourg is known beyond the borders of Luxembourg for its old copper mine, which is one of the tourist highlights of the Our Nature Park. Today it is possible to visit part of the underground galleries and experience history up close. Between 20 June and 15 August 2022, a beehive bell is being made on site on the initiative of the "Syndicat d'Initiative Stolzebuerg", by following the instructions as described by the Benedictine monk Theophilus Presbyter dating from the 12th century. All the stages of making such a bell have been explained to visitors.
This coming Sunday, 14 August 200, the production will be completed with the casting of the bell. This is scheduled for 19:00 (due to weather conditions, there may be a slight delay).
Due to its history marked by the exploitation of copper ore, Stolzembourg has a close connection with this metal. The bell is being made of copper and pewter and will then find a new home in the orphan belfry, the oldest building (dating from 1671) in Stolzembourg. Craftsmanship and cultural heritage therefore go hand in hand.
Dr. Bastian Asmus, art founder by training and founder of the archaeometallurgy laboratory, will be on site from 11 to 15 August, from 10:00 daily, to prepare the casting of the bell. Born in 1974, he trained as an art foundryman in Nuremberg and Vienna (1997), studied prehistory and protohistory in Tübingen and diploma in Cape Town (2003), achieved a doctorate at University College London specialising in archaeometallurgy in the High Middle Ages. In 2011, he founded the laboratory of archaeometallurgy which is dedicated to the study of metallurgical remains left by our ancestors.
The solemn consecration and hanging of the bell in the old bell tower will take place on Friday 18 November 2022, the Day of Saint Odo de Cluny.
For photos of the exciting initiative, click here.