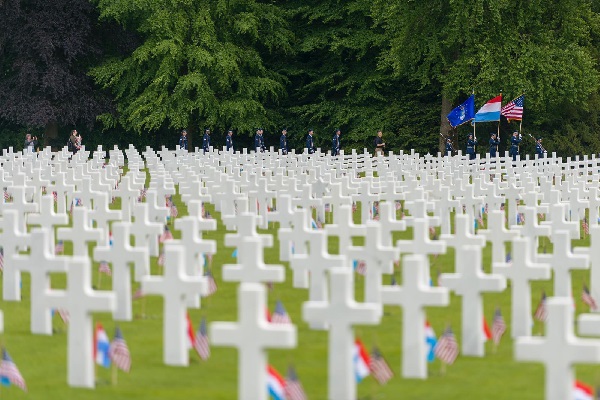 Credit: SIP
On the occasion of the 75th anniversary of the beginning of the Battle of the Bulge, two commemorations will be taking place at the American Military Cemetery in Luxembourg-Hamm; these will be held on Friday 13 December at 16:00 and on Monday 16 December 2019 at 15:30, respectively.
The first will be a luminary event (candle lighting), organised by the American Battle Monuments Commission, whilst the second will be the official ceremony. The public is invited to attend both events.
Representatives of the Federal Republic of Germany, the Kingdom of Belgium, Canada, the United States of America, the French Republic, the Kingdom of the Netherlands, the Republic of Poland and the United Kingdom, as well as veterans of the Battle of the Bulge, will be present on the occasion of the official ceremony, on 16 December. They will be joined by members of the Luxembourg government, the Chamber of Deputies, the Cabinet, the judiciary and mayors of the Grand Duchy.
Those interested in attending the official ceremony are invited to register online at https://maee.gouvernement.lu. Since space is limited, invitations will be awarded on a first come first served basis. Since the access road to the military cemetery will be closed on 16 December, a free shuttle service will be put in place. Further information concerning the logistics will be revealed upon registration.
For further information about the luminary event, on 13 December, visit https://www.abmc.gov/news-events/events/battle-bulge-75-luminary-event-luxembourg-american-cemetery.